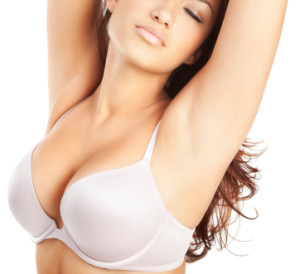 Breast lift surgery, clinically known as a Mastopexy, is a procedure designed to remove overly stretched, sagging skin from the breast, and to reshape the internal breast tissue to elevate the nipple and produce a perkier, more youthful shape. Sagging of the breast is a natural part of the aging process that can be accelerated by pregnancy, fluctuations in body weight, or by unfavorable genetics for skin elasticity. Keep reading to learn more, or click here to schedule a consultation today.
What is a Laser Bra Lift?
The Laser Bra LIft is a highly specialized and innovative procedure in which a laser beam is used to create an internal support system out of the excess skin that causes your breast to droop and sag. The laser tightens the skin into a soft, supple, and supportive "Laser Bra" that your surgeon then sutures into place as an internal bra. This internal bra supports the breast long-term, and enhances the shape in a way that no other breast lift procedure can accomplish.
Am I a candidate for the laser Bra Lift?
Most women who are having breast lift or reduction surgery for the first time are candidates, but there are a few exceptions. The only way to know for sure whether or not you are a candidate for the procedure is to schedule a consultation to be evaluated by a Laser Bra surgeon.
Are all Plastic Surgeons qualified To perform The Laser Bra Lift?
No. Only Laser Bra Certified plastic surgeons are qualified to perform the Laser Bra Lift. Laser Bra surgeons receive 6 months of intensive training on the Laser Bra technique in Los Angeles, and at the present time, Dr. Vendemia is the only certified Laser Bra surgeon on the East Coast.
Does insurance cover the Laser Bra?
No, insurance will not cover the Scarless Breast Reduction since it is a cosmetic procedure.
How much does the Laser Bra Lift cost?
The price range for a Laser Bra Lift is anywhere from $8,500-$12,000 depending on the complexity of your particular procedure, and a few other variables that you'll discuss with your surgeon during a consultation.
Are there financing options available for the Laser Bra Lift?
Yes, we have two excellent financing programs available for qualified applicants, and for many patients the monthly payments can be as low as $200. If you're interested in applying, you'll know whether or not you qualify before you leave the office after your consultation.