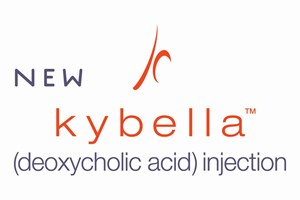 Kybella, also known as ATX 101 and deoxycholic acid, is a new FDA-approved injectable treatment for a double chin on both men and women. A series of three to five treatments can dissolve heavy fat in the central neck under the chin for a more youthful neck and jawline from all views, front and profile. The treatments are entirely nonsurgical, and can be performed in the office under local anesthesia with little or no downtime.
Dr. Nicholas Vendemia performs Kybella injections for double chins in men and women in the New York metro area. We encourage you to contact us online or give us a call at 917-703-7069 to schedule a visit. Dr. Vendemia is a leading injectable specialist in New York City with a reputation for custom care and beautiful results.
---
Are you a candidate for Kybella injections?
This is the most important question to answer before signing up for a treatment series. The ideal candidate for Kybella injections is a 25-45 year old man or woman with a heavy central neck and/or double chin without loose sagging skin. Kybella dissolves fat, but it does not tighten loose skin or repair split neck muscles commonly found in older individuals. It is important to differentiate a double chin from a "turkey neck" because the two conditions have very different treatments. If you're unsure about which category your neck falls into, or if you would like to learn more about treatments other than Kybella that can produce results in a single session instead of multiple treatments, please feel free to schedule a consultation.
---
How many Kybella treatments are required?
Most people will require 3-5 treatments to see an ideal result. It is possible to perform less than 3 treatments, but one must be cautious about being over-aggressive with these treatments to avoid over-dissolving. Over-dissolved fat in the neck and chin can be quite difficult, if not impossible, to fix. This is why a more conservative approach is recommended for most patients.
---
Will Kybella injections tighten loose skin on your neck?
No, Kybella will not tighten loose sagging skin on the neck. If you have a "turkey neck" condition where the skin in the central neck sags, you likely need a surgical skin tightening and/or platysma muscle repair for an ideal result.
---
What other procedures can enhance the neck and jawline?
Neck Liposuction. Liposuction of the neck has two major advantages over Kybella injections: 1) It requires only one treatment, and 2) the fat removal is more dramatic and more predictable. Neck liposuction will likely remain the gold standard procedure for permanent fat removal in the neck because the results are predictable and dramatic, and although the procedure usually requires twilight anesthesia for comfort, the safety profile for this procedure is quite favorable and the downtime is quite minimal. Learn more about neck liposuction by clicking here, or see how neck liposuction compares to Kybella injections here.
Chin Implant. Chin implants are one of the most popular procedures to enhance the jawline for a variety of reasons. The procedure has a fairly quick recovery and favorable risk profile. There can be no visible scarring if the incision is placed inside the mouth. And the results are immediate, permanent, and very natural. Chin implants also come in a variety of shapes and sizes, so there are quite a few options for enhancing not only the chin, but the jawline as well. This procedure is commonly combined with neck liposuction for a powerful enhancement in jawline definition and a tight, youthful neck profile. Click here to learn more.
Neck Lift. A surgical neck lift will always be the gold standard for creating a long, youthful jawline, removing jowls and micro jowls, and sculpting a tight, slim neck in profile. This procedure involves more cost, risk and downtime, but the exceptional, long-lasting results are on par with the greater commitment. Click here to learn more.

---

When will Kybella be available?

Kybella is expected to be released in the late summer or fall of 2015. If you want to be notified of the first day that treatments are available, please subscribe to our blog to get updated on the status of this exciting new treatment.

---

For more information about Kybella injections or neck liposuction, please call our office at 917-703-7069, or send us a message by clicking here. We offer the most innovative techniques and the quickest recovery times in the safest environment possible.

---