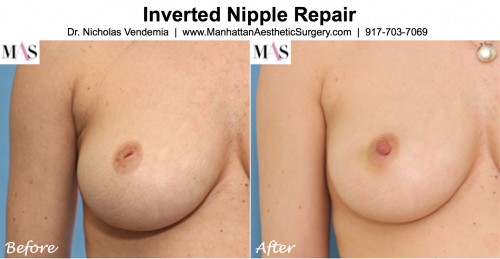 Inverted nipples are pretty easy to find in the general population, but surgeons who fix them aren't as common. Most women don't even know that there is a procedure to repair inverted nipples, so we thought this Before & After photo might be "worth a thousand words".
An inverted nipple repair procedure can be done under local anesthesia, and takes about 90 minutes to do both sides. You can go back to work the same day if you have to, but most patients will opt to go back the following day. The recovery period is pretty painless (most patients will only take a few prescription strength pain pills the night after surgery and then switch to regular Tylenol), and most of swelling will be gone in less than a week.
The After photo in the above image is the result at 2 weeks after surgery, and you can see that her nipple has gone from inverted to a normal appearance with almost no visible scars.
Feel free to give a call or text at 917-703-7069, or send us a message through our website if you have any questions or if you're interested in scheduling a consultation!