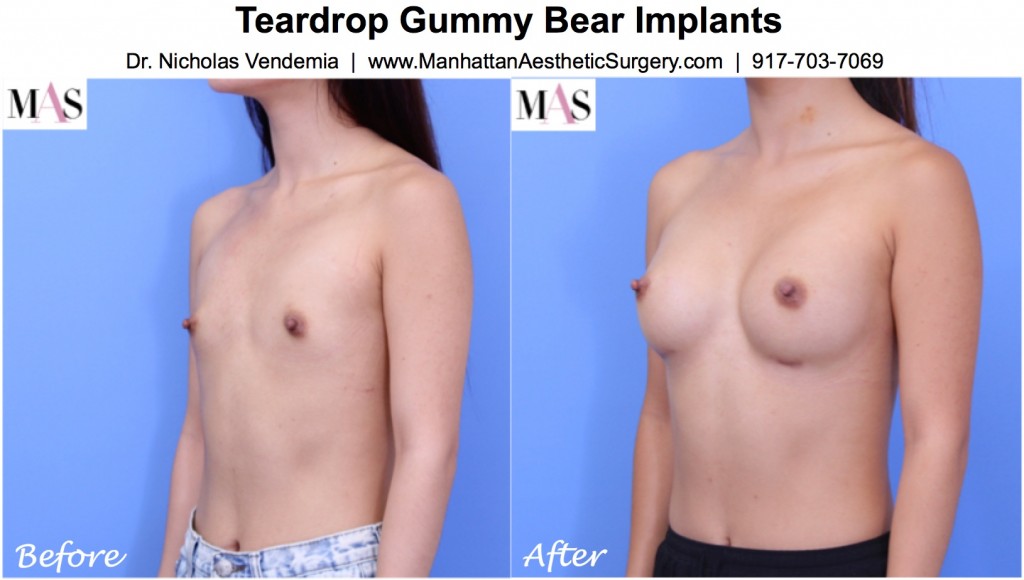 Breast augmentation in Asian women is often more difficult and challenging, and it requires a superior implant for superior results.
Asian women often have very little natural breast tissue, poorly defined folds under the breasts (or sometimes no folds at all), and sometimes prominent asymmetry of the breasts and underlying rib cage. All of these anatomic factors make breast augmentation in Asian women far more difficult than the average breast augmentation case.
In my experience, the teardrop shaped Gummy Bear Implants provide a far superior result in the Asian breast augmentation population. The teardrop implants provide far better expansion of the lower pole of the breast, which is essentially non-existent in many of my Asian patients, and give a far more natural upper pole, especially in profile. The teardrop gummy bears also do a significantly better job creating a sharply defined fold under each breast, which is critically important for a natural, pleasing result.
The two photo galleries below compare the results between two patients that are the same age, height, weight, starting cup size, and final implant volume. The only different is that the first patient had smooth round moderate profile silicone implants, and the second patient had textured gummy bear teardrop shaped implants. The starting appearance in the "Before" photos is fairly typical for young Asian women in my practice, although the results are very good in both cases, the final result is far superior with the teardrop gummy bear implants in the second photo gallery.
The Gummy Bear Implants do a significantly better job expanding the extremely tight skin, correcting asymmetries, defining the new inframammary folds (folds under the breasts), and creating a soft and natural looking slope in the upper chest.
286cc Smooth Round Silicone Implants
290cc Textured Gummy Bear Implants
---
How can I learn more about Asian breast augmentation?
Feel free to give us a call at 917-703-7069, or send us a message by clicking here Or read more about the procedure on our main information page here.
---
Nicholas Vendemia, M.D.
Plastic Surgeon New York
MASNewYork.com
Like MAS on Facebook
Follow MAS on Twitter
Photo Credit: Manhattan Aesthetic Surgery LLC
---