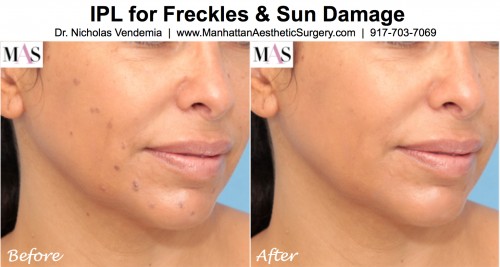 Intense Pulsed Light (IPL) therapy is a fantastic way to reduce the number of freckles and sun damage on your skin, so now that fall is officially here, and winter is right around the corner, consider a series of 3-4 treatments to get your skin ready for the next sunshine season.
The woman in the above photo series had two fairly aggressive treatments with the MaxG IPL/OPL system from Palomar, and you can see the amazing difference in the uniformity of her skin tone. The treatments were spaced about 4 weeks apart, and she did elect for a macrodermabrasion treatment in between her IPL sessions to speed up the process of the freckles flaking off. She had several freckles and flat moles that got extremely dark in the summer sun, and that is what prompted her to seek treatment.
The treatments themselves are fairly painless with numbing cream applied to the skin beforehand, and the treated areas will be bright pink for a few hours. The freckles themselves will turn even darker almost instantly after the treatment, and will continue to darken over the following 24-48 hours. This is a sign that the treatment was effective… the light was effectively absorbed by the pigment, and the pigment has changed in response to the light. If you don't see this darkening, chances are that your treatment was either too weak, that the machine isn't the best technology, or that your laser specialist didn't customize the settings properly to your particular skin type.
The dark spots will begin to flake off about 3-4 days after the treatment, and most of the smaller and lighter spots may be completely gone after a week or so. The largest and darkest spots may take a few weeks to fade completely, and the most stubborn of those may need a few separate treatments.
If you have any questions about using IPL for treating freckles and sun damage, please feel free to give us a call or text message at 917-703-7069 or send us a message by clicking here.
Nicholas Vendemia, M.D.
Plastic Surgeon New York
MASNewYork.com
917-703-7069
Follow MAS on Facebook
Follow MAS on Twitter
Photo Credit: Manhattan Aesthetic Surgery LLC