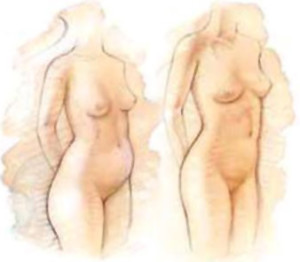 Manhattan Aesthetic Surgery provides advanced facilities for a wide range of plastic surgery procedures in New York City. The facility is led by Dr. Nicholas Vendemia, a dedicated plastic surgeon in Manhattan. Dr. Vendemia is experienced in cosmetic surgery in Manhattan for procedures related to body, breast, and face. He keeps safety as the top priority and strives to achieve effective results with innovative approaches to surgery.
Dr. Vendemia is a trained plastic surgeon in NYC, who has developed several signature procedures for improved patient comfort. Some of the key procedures include Rapid Recovery Breast Augmentation™, QuickComfort Rhinoplasty™, and LiteTouch Liquid Facelift™. He also performs mommy makeover procedure with a customized approach to suit the needs of the patient. For Manhattan cosmetic surgery, Dr. Vendemia is the choice of many patients in and around NYC.
An Overview of Mommy Makeover
Pregnancy and nursing can often lead to significant changes in a mother's appearance due to weight gain, loose skin and excess deposits of fat and tissue. Some mothers may also experience loss of volume in the breasts and sagging skin around the tummy after childbirth. Stretch marks in the tummy area are a common occurrence following a pregnancy. Younger mothers may start appearing older than their actual age or may be unhappy with their loss of physical proportion and figure.
For mothers who are looking to restore their complete body to the pre-pregnancy figure, mommy makeover may be an effective procedure. It is a comprehensive procedure that usually involves two or more plastic surgeries to achieve the desired results. An experienced surgeon will customize the procedure according to the needs of a patient. Safety is a top concern in such extensive surgeries, and patient's medical condition, status of previous surgeries and expectations from the procedure are taken into account while making the treatment plan.
Abdominoplasty
Many mothers tend to have excess fat deposits around the abdominal area following a pregnancy. If the fats tend to be stubborn and do not respond significantly to diet and exercise, a tummy tuck surgery or abdominoplasty may be performed to remove excess fats, tighten loose and weak muscles and excise loose skin to make the tummy flatter and firmer. In some cases, even stretch marks may be reduced due to tightened skin, but it is not a specific goal of this procedure.
Breast Augmentation
Some mothers will experience loss of volume in the breasts following a pregnancy and nursing the baby. This will cause the breasts to sag and lose their firmness and shape. If the mother is unhappy with the drooping breasts, the surgeon may recommend breast augmentation as a part of the mommy makeover. It involves placement of silicone or saline breast implants to achieve fuller breasts and restore their shape and appearance.
Breast Reduction
Pregnancy and breastfeeding may act differently for different women, and in some cases, the mother may develop heavier than usual breasts. Very heavy breasts may not be able to maintain shape and firmness. It may also cause constant discomfort, pain or limitations of physical exercise and movement. Women who desire smaller breast size may discuss their needs with the surgeon, who may recommend breast reduction as a part of the mommy makeover.
Breast Lift
Depending on a patient's condition, the surgeon may include breast lift surgery in conjunction with breast implants or breast reduction. If the skin's natural elasticity is weakened, the breasts are sagging, and the nipples point downwards, a breast lift can reverse these conditions. It involves reposition of the areolas and nipples, and removal of excess loose skin to raise the breasts.
Liposuction
Liposuction is an increasingly popular plastic surgery that is recommended as a part of a mommy makeover in many cases. The procedure is conducive with various other surgeries such as breast implants and tummy tuck. Moms who have stubborn pockets of fat in specific areas of the body can achieve improved proportion and shape with liposuction. It is usually performed in areas such as hips and buttocks, thighs, waist, chest, neck, cheeks, chin, arms, calves, inner knee and ankles.
Body Lift
This procedure involves removal of excess skin in various parts of the body to improve the appearance and make the mom look younger. A body lift can be performed in thighs, abdomen, groin and hips. Moms who have a problem of dimpled skin or cellulite in hips, abdomen and other parts can also benefit from body lift as a part of a mommy makeover.
Mommy Makeover with Dr. Vendemia
Dr. Vendemia is an experienced plastic surgeon in NYC, specializing in surgical as well as non-surgical treatments. Patients looking for cosmetic surgery in Manhattan may receive treatment at his state of the art facility. Dr. Vendemia completed his residency in plastic and reconstructive surgery at the prestigious Weill Cornell Medical Center in New York. As a plastic surgeon in Manhattan, he offers the latest procedures and techniques to the achieve desired results for his patients.
For more information on plastic surgery procedures and treatment Dr. Nicholas Vendemia (Dr. V) performs in New York City / Manhattan visit: