This is a 33 year old woman who wanted smoother lips with less wrinkles, and a slightly enhanced version of her own natural shape. As you can see, she already had full lips with good proportion and symmetry, so the technique used here was a special one designed to smooth as many of the wrinkles as possible without adding a look of volume or additional fullness. This is the result immediately after very precise injection of 1.5 syringes of Juvederm. The wrinkles are nearly gone so her lipstick will go on smoother and last longer, the naturally full shape of her bottom lip looks even better without being overdone, and the cupid's bow of her top lip is also more prominent and prettier. The very slight asymmetry of her bottom lip has also been corrected for a more even appearance.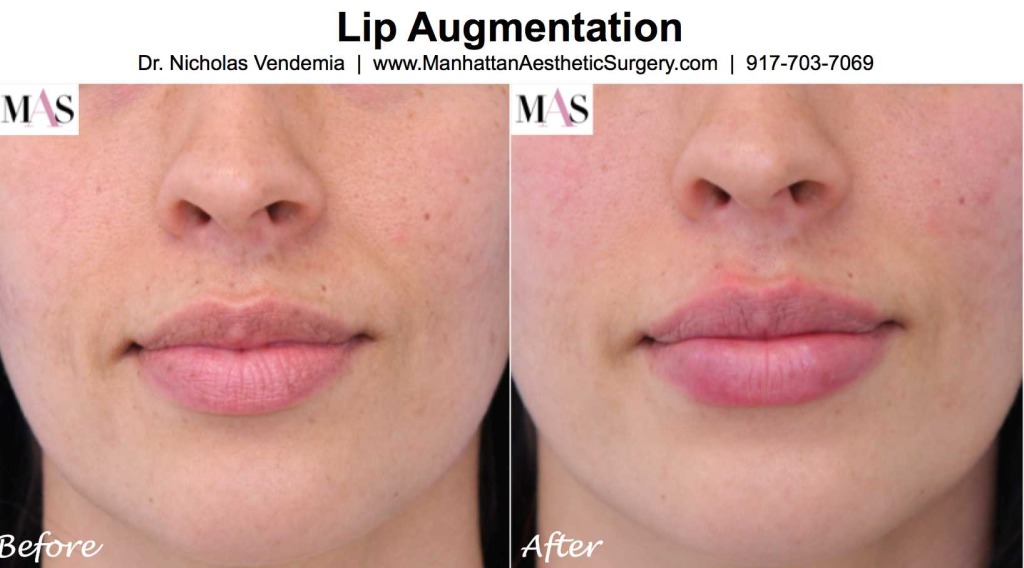 To get more information about lip enhancement, feel free to give us a call at 917-703-7069, or send us a message by clicking here.
We also encourage you to View our Lip Augmentation Photo Gallery to see the incredible results that real patients have achieved in our practice with our exclusive and innovative approaches to nonsurgical lip enhancement.
Nicholas Vendemia, M.D.
Plastic Surgeon New York
MASNewYork.com
Like MAS on Facebook
Follow MAS on Twitter
Photo Credit: Manhattan Aesthetic Surgery LLC
NOTICE: The information presented here is meant for entertainment and/or educational purposes only, and should never be considered as a statement(s) of fact, instructions, or medical advice. None of the celebrities or individuals discussed here have ever received treatment, surgery, medical advice, or evaluations from any author, physician, surgeon, or representative of this blog.