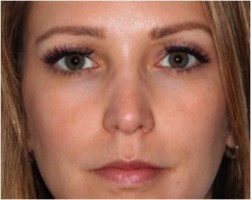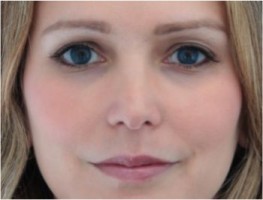 Age: 34Products: Juvederm VOLUMAProcedure(s): Cheekbone enhancement
This is a 34 year old woman who wanted her 28 year old cheeks back. Since that time, she felt as though her cheekbones lost all of their fullness, and that the shape of her face changed as a result. She underwent a injectable cheekbone augmentation procedure in the office to restore that natural volume she lost in her 30's. Two syringes of Juvederm Voluma were used to restore the cheekbone highlights on each side (four syringes total), and one syringe of Juvederm Ultra Plus was used to feather in the new cheekbone volume into her undereye area on each side (two syringes total) for the most natural look possible. All in all, six syringes of product were required for the procedure, and the result is outstanding.
Before and After cheekbone enhancement with Juvederm Voluma by Injecable Specialist in New York Dr. Nicholas Vendemia. If you would like more information about cheek injections, or about other cheekbone augmentation treatments offered by Dr. Vendemia, please feel free to give us a call at 917-703-7069 or send us a message by clicking here.