Buttock augmentation is an increasingly popular plastic surgery procedure at our LA practice and nationwide. The procedure is sometimes called a Brazilian Butt Lift if it involves fat transfer, but buttock implants can also be used for a more reliable result, a less expensive operation, and an easier recovery.
At this time, the surgical options of fat transfer and butt implants are the only options for buttock augmentation that we recommend. None of the artificial products used for nonsurgical butt injections are approved in the United States because of safety concerns and the high risk of infection and other inflammatory problems, so we do not perform, and cannot recommend, butt injections other than with fat transfer.
Dr. Nicholas Vendemia performs buttock augmentation and LipoSculpting™ procedures for women and men. He is a leading cosmetic surgeon in Los Angeles with a reputation for custom care and beautiful results. Feel free to give us a call at 917-703-7069 to schedule a personal consultation, or send us a message by clicking here.
---
What are the goals of buttock augmentation?
Enhance the size, fullness, projection and roundness of the patient's buttocks.
Improve the overall balance and proportion of the patient's figure.
Add to the patient's self-image and personal confidence.
---
Are you a candidate for buttock augmentation with implants or fat transfer?
Any adult who is unhappy with the size or shape of the buttocks or is look for enhanced balance of their body may be a good candidate for this procedure. Patients with asymmetrical buttocks may also benefit from this surgery. Fantastic and ideal candidates will typically have decent and average physical health, positive outlook, clear aesthetic goals, and realistic expectations. Fat transfer utilizes your own tissue for the augmentation, but this procedure can be lengthy and costly. Butt implants can often be performed in a much shorter amount of time than fat transfer because there are less steps involved in the procedure, and the results are usually more consistent and reliable because implants will not lose volume over time like fat transfer augmentations will when some of the fat dissolves.
---
Are there any options to improve the appearance of my butt without augmenting it?
Yes, sometimes the appearance of the butt can be enhanced by reshaping the hips and thighs with liposuction alone. Removing saddle bags and love handles, shrinking inner thighs, and recontouring the thighs (especially under the buttocks) can sometimes lead to a dramatic improvement of the appearance of the buttocks without actually performing a buttock augmentation procedure. Here are two examples from our Before & After Photo Gallery of the visual effect of the butt being lifted with Dr. Vendemia's exclusive LipoSculpting™ procedure of the love handles, saddle bags, upper thighs without any actual buttock augmentation: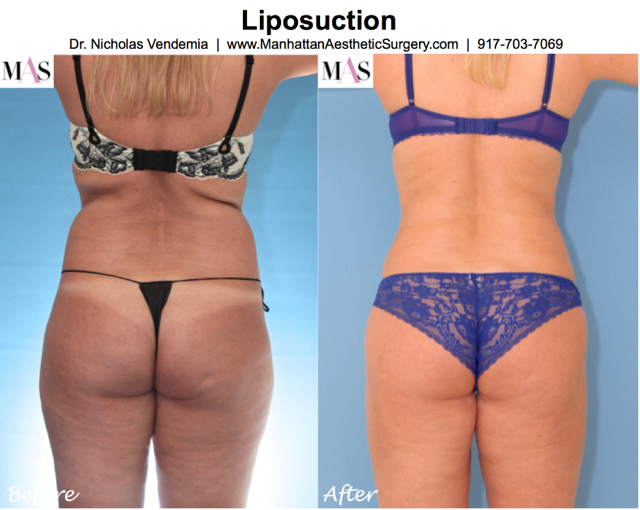 ---
Considerations for the buttock augmentation procedure:
The plastic surgeon will determine the appropriate surgical technique to perform buttock augmentation after evaluating the following factors:
Natural size and shape of the buttocks.
Amount of spare fat available on the patient's body.
General health and fitness level of the patient.
Skin quality and elasticity.
The procedure may be performed under gentle Twilight anesthesia.
---
For more information about buttock augmentation with implants for fat transfer, or about Dr. Vendemia's exclusive LipoSculpting™ procedure, please call our office at 917-703-7069, or send us a message by clicking here. We offer the most innovative techniques and the quickest recovery times in the safest environment possible.