Laser Skin Care
Before and after photos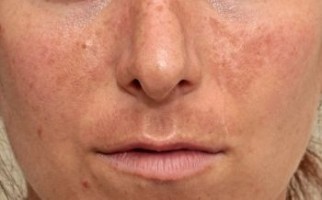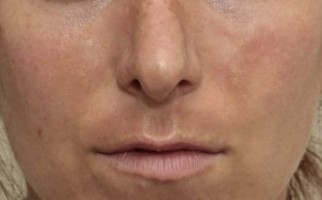 Age: 27Height: 5'4"# of Treatments: 5Procedure(s): Laser for melasma
This is a 27 year old woman who has severe melasma in the classic pattern across her cheeks, nose and upper lip. It gets dramatically worse in the sun, and no creams or lotions have ever helped. She underwent a series of five laser treatments, used a zinc oxide sunscreen diligently, and a hyperpigmentation cream for about 4 months, and as you can see, nearly all of the dark patches are significantly improved.
Melasma is one of the most difficult skin care conditions to treat becuase it involves pigment production at all levels of the skin, form the superficial surace skin all the way to the deepest layers of the dermis. The only way to effectively treat a condition such as this is to use a multi-faceted approach that targets all the layers where the pigment exists, Topical creams and chem peels only address the superficial pigments, which in moderate-severe cases like this, are the least problematic. The deep pigments are the most difficult to break up, and no topical treatment or peel will even penetrate that deeply without undue risk. The only way to target the deep pigment production is with a deep penetrating non-abllative fractional laser, and this is why the multi-faceted approach has a much higher success rate than the much simpler (but also much less effective) topical approach.
Before and After laser treatments for melasma in New York by Laser Skin Care Specialist Dr. Nicholas Vendemia, a plastic surgeon in New York City at MAS. If you would like more information about laser skin care options please give us a call at 917-703-7069 or send us a message by clicking here.