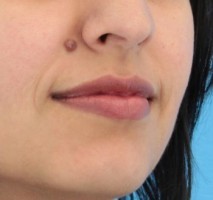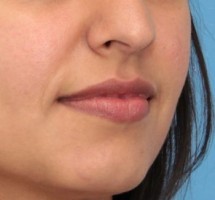 Age: 38Height: 5'5"Status: BenignProcedure(s): Facial mole removal
This woman was unhappy with the striking appearance of a large mole next to her nose. She had the mole removed under local anesthesia in the office setting, and you can see what an amazing difference it made in the overall appearance of her nose, mouth, and entire lower face. The scar is hidden very precisely in her natural smile line and is nearly invisible. Her stitches were removed on the 5th day after surgery, there was no brusiing or swelling, and it was not necessary for her to take even a single day off of work.
Before and After Facial mole removal in New York by mole removal Specialist Dr. Nicholas Vendemia, a plastic surgeon in NYC at MAS. If you would like more information about facial mole or skin tag removal, please give us a call at 917-703-7069 or send us a message by clicking here.