Mommy Makeover
Before and after photos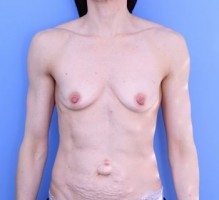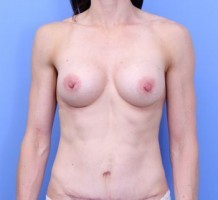 Age: 44Height: 5'5"Weight: 125lbsProcedure(s): Breast Augmentation + Mini-Abdominoplasty + Muscle Repair + Umbilcal Hernia Repair
This is a 44 year-old mother of three (5'5″ 125lbs) who underwent a total of five procedures to restore her pre-baby body, breast augmentation, an abdominoplasty, an abdominal muscle repair, an umbilcal hernia repair, and an umbilicoplasty.
The Natural Breast Augmentation Technique was used for her because she didn't want a large size implant, but did want a very natural appearance. She selected a moderate profile smooth round 304cc silicone implant to take her from an A cup to a very small C cup, and the result is exceptionally beautiful.
Her tummy tuck was conducted as a mini-tummy tuck through a shorter incision, but a full abdominal muscle repair was perfored to reorient her spllit rectus muscles. She also had a very large umbilcal hernia that was visible through most of her clothing. This hernia was repaired meticulously, and an umbilicoplasty was performed immediately after the repair to improve the appearnce of the belly button beyond just repairing the hernia. The vast majority of her stretch marks were removed, and overall her abdomen looks 1000% better.
Before and After Breast Augmentation and Abdominoplasty by Mommy Makeover Specialist in New York Dr. Nicholas Vendemia of MAS | Manhattan Aesthetic Surgery. If you would like more information about breast augmentation or mommy makeover surgery, please give us a call at 917-703-7069 or send us a message by clicking here.