Breast Augmentation
Before and after photos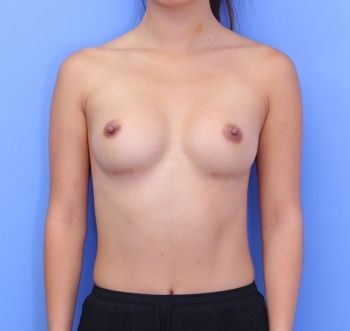 Age: 22Height: 5'6"Weight: 110 lbsImplant: 290cc TeardropCup Size: A-->CProcedure(s): Breast Augmentation
This is a 22 year old woman (5'6″ 110lbs) who had very little natural breast tissue, and very little natural breast anatomy. Not only does she lack volume, but she also lacks the typical anatomic landmarks like the folds or creases the define the bottom border of the breast.
Cases like this are where the Gummy Bear Teardrop implant shines, and that is the implant used in The Natural Breast Augmentation Technique. The result with a teadrop implant in a case like this will always be far superior to any round implant, especially at such as early stage like this where the results shown are at less than two months after surgery when the stretching and settling process is not even complete. Her breasts will continue to look better and better over the next 3-6 months as they settle into an even more natural position.
Her implants are Natrelle Style 410FF-290cc teardrop gummy bears placed under the muscle.
If you're interested in the Teardrop Gummy Bear Implants, please give us a call at 917-703-7069to schedule a consultation.