Breast Augmentation
Before and after photos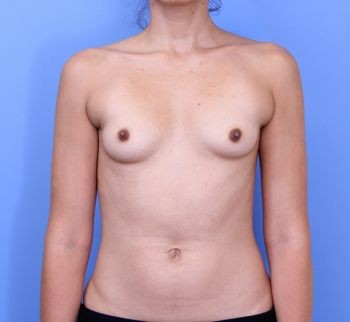 Age: 28Height: 5'7"Weight: 135 lbsImplant: 335cc Gummy Bear SiliconeCup Size: A-->Full CProcedure(s): Breast Augmentation
This is a 28 year old woman who wanted an extrmely natural breast augmentation, but also one with enough size to balance out her frame.
The result you see here is only 6 weeks after surgery, and already the result is stunning. Her breasts are beautifully proportioned to her torso, her cleavage is sexy but natural, and her pre-existing asymmetry has been corrected quite well and will only continue to improve over the next 3-4 months, as will the overall position and aesthetic appearance of the implants.
Her implants are Natrelle Style 410FF-335cc gummy bear silicone placed under the muscle.
Before and After Gummy Bear Breast Augmentation by Breast Implant Specialist in New York Dr. Nicholas Vendemia of MAS | Manhattan Aesthetic Surgery.  If you would like more information about breast implants, please give us a call at 917-703-7069 or send us a message by clicking here.