Breast Implant Revision
Before and after photos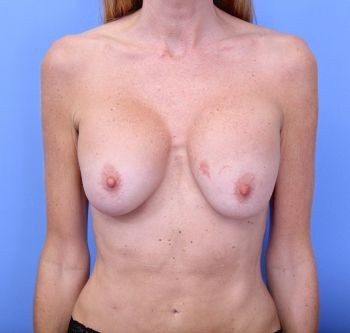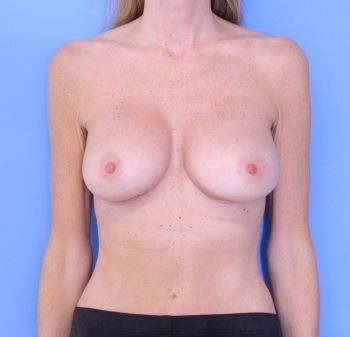 Age: 39Height: 5'6"Weight: 110 lbsImplant: 375cc Teardrop SiliconeCup Size: D-->CProcedure(s): Breast Implant Revision
This is a 39 year old woman who had a breast augmentation performed by another surgeon and was unhappy with the implants sitting too high on her chest, the square rectangular shape of the implants, the uneven appearance between the two sides, and the fact that her breast sagging was not well corrected.
She underwent a breast implant revision procedure where the original 400cc smooth round implants were removed, the implant capsules were restructured to allow the new implants to sit in a more natural position, and a new set of breast implants was placed. The new breast implants in the After photo are Natrelle 375cc 410-MF teardrop shaped gummy bear implants, and you can see the tremendous improvement in the shape of her breasts, the position of the implants, and the overall appearance of her chest. The extremely natural slope of the teardrop shaped implant not only got rid of the unnatural fullness in her cleavage area, but it also allowed for a better correction of her sagging. This is the result at 2 weeks after surgery.
Before and After Breast Implant Revision by Breast Implant Specialist in New York Dr. Nicholas Vendemia of MAS | Manhattan Aesthetic Surgery.  If you would like more information about breast implant revision surgery, please give us a call at 917-703-7069 or send us a message by clicking here.