Breast Implant Revision
Before and after photos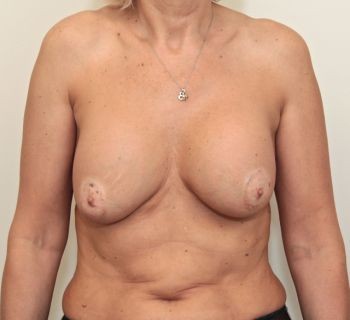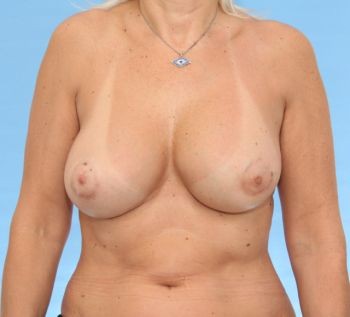 Age: 55Height: 5'5"Weight: 140 lbsImplant: 421cc SiliconeCup Size: C-->DProcedure(s): Breast Implant Revision
This is a 55 year old woman who was interested in having her 16 year old breast implants exchanged for a new pair because she was incredibly unhappy with how they looked, and because she was developing a capsular contracture (hardening) of her left implant. She noticed that her left breast started getting hard and changing shape about a year prior to her initial consultation, but she put it off because she wasn't sure if it was a problem. This ended up being a mistake becuase the extra time that she waited allowed her contracture to evolve to a stage that was very difficult to fix, and during the revision surgery, her left silicone breast implant was found to be ruptured. The ruptured implant material had to be removed, the hardened scar tissue had to be removed, both breast pockets had to be reshaped, and new 421cc moderate profile silicone implants were replaced for a much more natural look that is also much softer after the contracture repair.
This case illustrates the tremendous importance of planning to exchange your breast implants for a new pair at the 10-15 year mark for silicone, or the 6-8 year mark for saline. It also illustrates the reason that it's important to seek the help of a plastic surgeon right away if your breast implants become hard or change shape. This could be a sign of a serious problem like capsular contracture, and the quicker you have it dealt with, the easier the repair procedure will be.
Before and After Breast Implant Revision for Capsular Contracture caused by ruptured breast implants by Breast Implant Specialist in New York Dr. Nicholas Vendemia of MAS | Manhattan Aesthetic Surgery.  If you would like more information about breast implant revision surgery, please give us a call at 917-703-7069 or send us a message by clicking here.