Breast Implant Revision
Before and after photos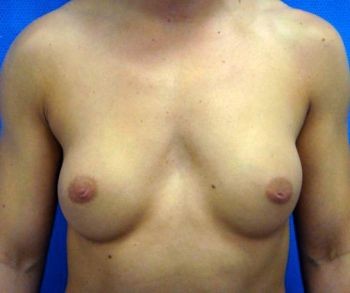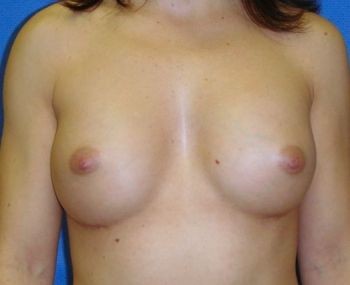 Age: 30Height: 5'3"Weight: 115 lbsImplant: 240cc SiliconeCup Size: A-->BProcedure(s): Breast Implant Revision
This is a 30 year-old woman who still wore an A cup bra after getting subgladular (over the muscle) transumbilical (through the belly button) saline breast implants 5 years ago. She decided that she wanted to be a full-B cup instead, and that she wanted the large space between her breasts corrected. After removing her old saline implants, she underwent submuscular (under the muscle) breast augmentation with 240cc moderate-profile smooth silicone breast implants through an inframmary incision (in the fold). You can see the amazing improvement in the size and shape with excellent symmetry and cleavage. The unattractive wide space between her breast has been fixed with the larger, wider implant.
This case is a perfect example why it is important to select the proper implant before surgery. Being too conservative with implant size is the #1 cause of this wide space between the breasts, and one of the most common reasons to need a revisional procedure like this.
Before and After Breast Implant Exchange for a Larger Size by Breast Implant Specialist in New York Dr. Nicholas Vendemia of MAS | Manhattan Aesthetic Surgery.  If you would like more information about breast implant revision surgery, please give us a call at 917-703-7069 or send us a message by clicking here.