Breast Implant Revision
Before and after photos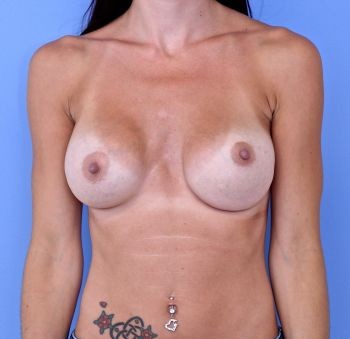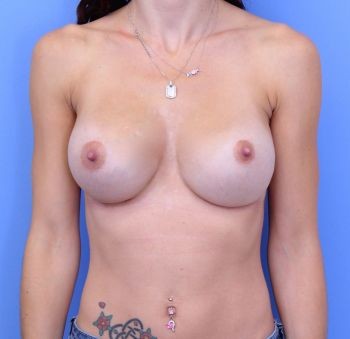 Age: 30Height: 5'4"Weight: 110 lbsImplant: 457cc SiliconeCup Size: C-->DProcedure(s): Breast Implant Revision
This is a 30 year old woman who wasn't happy with the appearance of her 10-year old saline breast implants, particularly the appearance of her right implant. Her right breast implant has slid nearly all the way off her chest into her armpit, and looks quite different than the opposite side. Her right implant is in such a bad position that it is actually uncomfortable for her.
Her old 330cc high profile saline implants were removed, major revisions of the implant capsules on both sides were performed, and new 457cc moderate profile gummy bear silicone implants were reinserted. This is the result at one month after surgery, and you can see the tremendous improvement in the position of her right implant. And because of the improved positioning of both implants, they actually look more natural even though they are significantly larger. Many adaptations of the Playmate Breast Augmentation technique were required for this procedure because it is so difficult to make such large implants look so natural in someone with such a petite frame, and these special techniques worked out very well (as you can see).
Before and After Breast Implant Revision by Breast Implant Specialist in New York Dr. Nicholas Vendemia of MAS | Manhattan Aesthetic Surgery.  If you would like more information about breast implant revision surgery, please give us a call at 917-703-7069 or send us a message by clicking here.