Breast Implant Revision
Before and after photos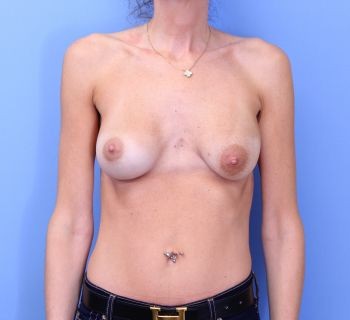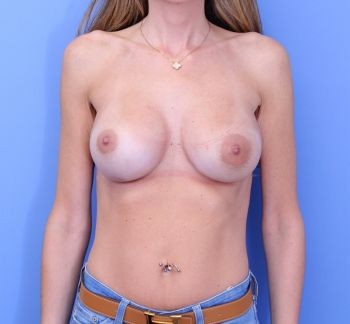 Age: 33Height: 5'8"Weight: 122 lbsImplant: 445cc SiliconeCup Size: B-->DProcedure(s): Breast Implant Revision
This is a 33 year old woman who wasn't happy with the appearance of her saline breast implants. Her main goals for the revision surgery were a larger size and better symmetry.
Her old saline implants were removed and found to be dramatically different sizes (275cc on her right and 200cc on her left) for an unknown reason, and they were replaced with Natrelle Inspira Style SRM-445cc smooth round silicone implants. The left side was particularly difficult because it had been so underexpanded for so many years. The muscle needed to be re-released and the skin re-expanded in several locations to allow the left implant to sit in a more symmetric spot in comparison to the opposite side. This is the result at 2 months after surgery, and not only is the symmetry dramatically improved, but the larger size actually looks more natural. This may seem a bit counterintuitive how a larger size could look more natural than a smaller size, but when the implants are positioned properly, this is commonly the case.
Before and After Breast Implant Revision by Breast Implant Specialist in New York Dr. Nicholas Vendemia of MAS | Manhattan Aesthetic Surgery.  If you would like more information about breast implant revision surgery, please give us a call at 917-703-7069 or send us a message by clicking here.