Liposuction
Before and after photos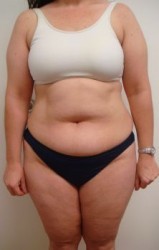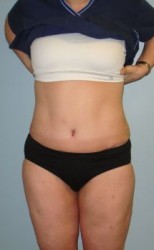 Age: 35Height: 5'4"Weight: 150lbsAreas: 5Volume Removed: 5000ccProcedure(s): Liposuction
This is a 35 year old woman with three children who had been trying to lose weight and inches with diet and exercise for years before deciding to have liposuction to jump start her results at the gym. She worked very long hours and found herself constantly disappointed by never having as much time as she felt she needed to lose the weight she wanted to, and she simply wanted to feel a little better about herself in gym clothes to hopefully spur some additional motivation. This procedure accomplished exactly that for her… she fit into all of her clothig better, not just her gym clothes, and she found her motivation skyrocketting when she went to the gym. She was able to move much better without the "rolls" around her waist, and she ended up losing 30lbs from more intense exercise within one year after the procedure.
She had a total of five areas liposuctioned (abdomen, love handles, hips, inner thighs, outer thighs), and the maximum volue that is safe to do in one procedure (5 liters) of fat was removed. This is the result at three months after surgery, and she will continue to shrink and tighten all the way out to 12 or 14 months after surgery, which was especially true in her case since she began working out so intensely after she was healed.
Before and After Liposuction and Liposculpting by Lipo Specialist in New York Dr. Nicholas Vendemia of MAS | Manhattan Aesthetic Surgery. If you would like more information about liposuction, please give us a call at 917-703-7069 or send us a message by clicking here.