Liposuction
Before and after photos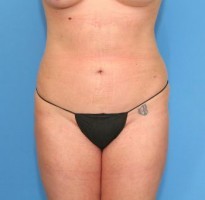 Age: 29Height: 5'9"Weight: 160lbsAreas: 3Volume Removed: 5000ccProcedure(s): Liposuction
This is a 29 year old woman who went to the gym five times a week with a personal trainer with a goal of losing 30lbs, but after 6 months she felt that her results (and motivation) reached a plateau. She chose to have liposuction of her abdomen, love handles, and hips in order to get rid of her most stubborn fat that never seemed to shrink no matter how much she worked out or how much she dieted. This turned out to be a great idea for her because it jump started her motivation to get back into the gym more frequently and more intensely, and it improved the quality of her life overall since she fit much better into all the clothing she wanted to wear but never could because of her midsection.
She had a total of three areas liposuctioned (abdomen, love handles, and hips), and the maximum volue that is safe to do in one procedure (5 liters) of fat was removed. This is the result at four months after surgery, and she will continue to shrink and tighten all the way out to 12 or 14 months.
Before and After Liposuction by Lipo Specialist in New York Dr. Nicholas Vendemia of MAS | Manhattan Aesthetic Surgery. If you would like more information about liposuction, please give us a call at 917-703-7069 or send us a message by clicking here.