Liposuction
Before and after photos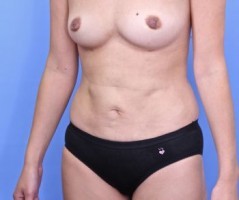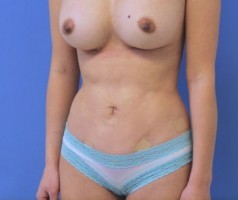 Age: 35Height: 5'3"Weight: 115lbsAreas: 2Volume Removed: 1400ccProcedure(s): Liposuction
This is an example of revision liposuction and first-time LIpoSculpting in a 35 year old woman who had laser liposuction one year prior by another surgeon and was not happy with the lumpiness around her belly button, and the grooving of her lower abdomen. She underwent a very complex revision liposuction procedure in which a fat shifting technique was used to smooth out the lower abdomen, and then a combination of revision liposuction and liposculpting techniques were used to flatten the lumpines around the belly button, and recontour the waistline to give her a more hourglass figure and a more dramatic result. Her waist is now so small that she had to have her compression garment custom-fitted… a great problem to have!
She had a total of two areas of liposculpting performed (abdomen, love handles), and 1.4 liters of fat was removed.
She also had a breast augmentation procedure at the same time using 371cc moderate profile silicone implants, which explains the additional fullness you'll notice in the breasts if you look closely. Click here to view her before and after breast augmentation photos.
Before and After Revision Liposuction and Liposculpting by Lipo Specialist in New York Dr. Nicholas Vendemia of MAS | Manhattan Aesthetic Surgery. If you would like more information about liposculpting, please give us a call at 917-703-7069 or send us a message by clicking here.