Liquid Facelift
Before and after photos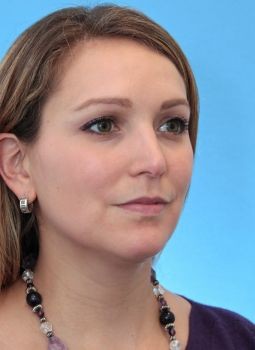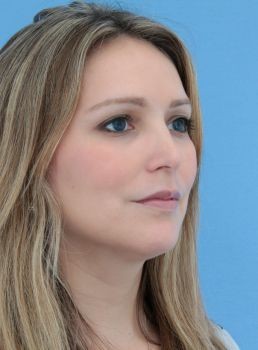 Age: 34Products: Juvederm VOLUMA, Juvederm Ultra Plus, Sculptra, Belotero, BotoxProcedure(s): Liquid Facelift
This is a 34 year old woman who wanted her 28 year old face back. She said that since that time, she feels as though her brows have drooped (making her look tired all the time), her cheeks have deflated (making her face look saggy and deflated), her jawline has shortened because of the tiny jowls that have slowly appeared around her chin, and her lips have lost some of their youthful plump.
She underwent a staged liquid facelift procedure so that she could take advantage of the collagen building properties of Sculptra that also gives her the advantage of results that last 2-3 years instead of the typical 6-9 months associated with other fillers like Juvederm and Restylane. Sculptra cannot be used to sculpt a specific look like the one she achieved here, but it's an excellent option to provide a long lasting base restoration of volume. After the base is rebuilt, then other products like Juvederm Voluma make a fine choice to add shape and contours. The main difference between Sculptra and the other products is that Sculptra works gradually (over 3-4 months) and requires 3-4 treatments whereas the results from Juvederm are visible immediately and usually require only a single treatment. The benefit of using Sculptra in a younger woman like this is that the maority of her volume will last 2-3 years so she won't have to have the full Liquid Facelift procedure repeated quite so often. This may not be the best strategy for every woman, but it worked extremely well for her, as you can clearly see from her stunning After photo. She also had our signature laser skin care series, the LiteTouch Laser Facial to even our her skin tone, shrink her pores, and remove several elements of sun damage.
In total, this result required 7 vials of Sculptra (spaced out over 4 treatments), 3 syringes of Juvederm Voluma, 1 syringe of Juvederm Ultra Plus, 2 syringes of Belotero, and 55 units of Botox. The lesson to be learned here is that many women are disappointned with the lack of results from a single syringe of any of these products because they believe it was not placed with a proper technique, when in actual reality, it simply wasn't enough product to do the job. In the hands of an expert injector with significant experience using a large selection of products, high volumes need not be feared. When the products are selected properly, and injectied artistically, the results can be incredibly natural and beautiful.
Before and After the Liquid Facelift procedure by Injecable Specialist Plastic Surgeon Dr. Nicholas Vendemia of MAS. If you would like more information about the Liquid Facelift, or about other injectable treatments offered by Dr. Vendemia, please feel free to give us a call at 917-703-7069 or send us a message by clicking here.