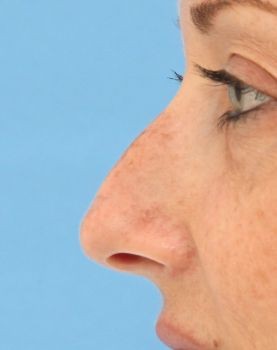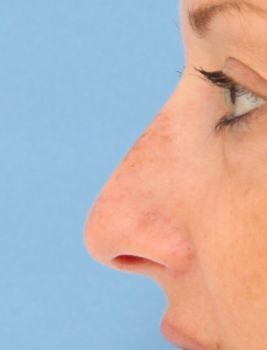 Age: 28Products: RadiesseProcedure(s): Liquid Rhinoplasty
This is a 28 year old women who wanted a straighter, less droopy, more feminine looking nose without surgery. She understood that a surgical rhinoplasty would give her the best result possible, but was not ready for that kind of commitment. Instead, she elected to have a nonsurigcal rhinoplasty (also referred to as a Liquid Rhinoplasty).
A Liquid Rhinoplasty is a highly artistic procedure that should only be performed by plastic surgeons that are also experienced with surgical rhinoplasty. It requires a detailed analysis of the nasal anatomy, a skilled hand, and an extremely delicate touch to produce a result this natural. Her nose was injected with micro amounts of Radiesse in approximately 18 different locations to make the nose appear straighter from the front, less droopy from the side, and to hide the hump on the bridge of her nose in her profile. The result is not as dramatic as what could have been achieved with a surgical rhinoplasty, but this procedure took only about 30 minutes, the results were visible immediately and will last approximately one year, and cost about 1/10th the price of the surgical option. For her, this was the best choice to meet her goals of minimizing the risk, cost, and downtime while still achieving a very nice improvement in the aesthetic of her nose.
Before and After the Liquid Rhinoplasty by Rhinoplasty Specialist in New York Dr. Nicholas Vendemia of MAS. If you would like more information about the Liquid Rhinoplasty, or about other options for improving the appearance of your nose offered by Dr. Vendemia, please feel free to give us a call at 917-703-7069 or send us a message by clicking here.