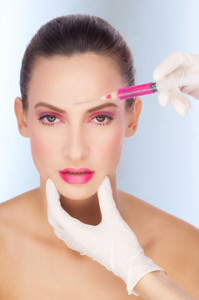 Manhattan Aesthetic Surgery is a premier facility for cosmetic surgery in Manhattan, New York City. The practice is led by Dr. Nicholas Vendemia, an experienced plastic surgeon in NYC for breast, body and face aesthetic surgery procedures. Dr. Vendemia has developed a number of signature procedures that are designed to suit the specific needs of his patients in and around NYC. He also provides a wide range of non-invasive and minimally invasive treatments to patients who prefer such options instead of Manhattan cosmetic surgery.
Botox is one of the key non-surgical cosmetic procedures preferred by patients all over the world. In 2002, the Food and Drug Administration (FDA) had approved Botox for the treatment of frown lines on the forehead. Now the FDA has also given its official approval to Botox for the cosmetic treatment of crow's feet around the eyes. In Dr. Vendemia's experience as plastic surgeon in Manhattan, surgical treatment continues to be the dominant choice for many patients who need longer lasting results, but for others who wish to avoid surgery, Botox has proved to be a safe and effective alternative.
Why Choose Botox?
Botulinum toxin is one of the most potent biological agents that was discovered nearly a hundred years ago. It took more than three decades of research to determine the medical benefits of this toxin. In due course, scientists discovered the unique benefits of botulinum toxin as a cosmetic treatment to reduce the signs of aging from the face temporarily. Ever since Botox was approved by the FDA to reduce lines between eyebrows, it has become one of the most popular non-surgical anti-aging treatments in the world.
Now with the FDA approval to reduce wrinkles around the corners of the eyes, which are known as crow's feet, Botox can make the eyes appear more rested, refreshed, and youthful. As a plastic surgeon in NYC with sufficient experience with Botox, Dr. Vendemia says that the treatment should be administered only by a skilled Botox provider or a certified cosmetic surgeon. Botulinum toxin is used in extremely diluted form and in approved doses to cause a paralytic impact only on the targeted muscle, without spreading over the adjacent areas.
FDA Approval
Botox has been approved not just for cosmetic purposes such as reduction of frown lines and crow's feet, but also for various medical purposes. It is approved for treatment of medical conditions such as excessive underarm sweating, chronic migraines, and involuntary eyelid spasms. Patients looking for alternative to cosmetic surgery in Manhattan may opt for Botox treatment where it is suitable. Crow's feet are clinically known as lateral canthal lines, which are known to be caused by the repeated contraction of eye muscles over a period of time.
Repetitive facial expressions such as squinting, frowning and smiling can result in the formation of permanent fine lines or wrinkles, which can be addressed with Botox. The FDA has announced that Botox is a salient and fantastic temporary solution to remove or reduce fine lines and wrinkles that may form around aging eyes, which are also called crow's feet. Manhattan Cosmetic Surgery practice of Dr. Vendemia is equipped to provide Botox treatment for both cosmetic and medical purposes.
Proven Effectiveness for Crow's Feet
Botox received FDA approval for crow's feet treatment following a scientific study conducted by the drug's manufacturer, Allergan, Inc. The study included two groups of participants, out of which one group of 833 adults was treated with a placebo injection of Botox to treat crow's feet. The other group was left untreated. The group that received the treatment showed visible reduction in crow's feet. Dr. Vendemia advises his patients to keep realistic expectations from the procedure. The results of a single Botox treatment may last for up to six months in most cases.
FDA Warning
Botox label carries a warning from the FDA, which says that the toxin's effects may spread over to other unintended areas of the body, away from the site of treatment. Symptoms of botulism may occur in such an event. However, the warning also notes that the occurrence of such an adverse event has never been reported when Botox is used in recommended doses.
In other words, safety with Botox treatment can be ensured when the treatment is provided by an experienced Botox provider or a plastic surgeon in Manhattan or another area. Dysport and Xeomin are two other anti-wrinkle treatments that are similar to Botox. However, Botox is the only one to have received FDA's approval for treatment of crow's feet as of now.
Source of News: FDA Press Release
For more information on plastic surgery procedures and treatment Dr. Nicholas Vendemia (Dr. V) performs in New York City / Manhattan visit: