Breast Implant Revision
Before and after photos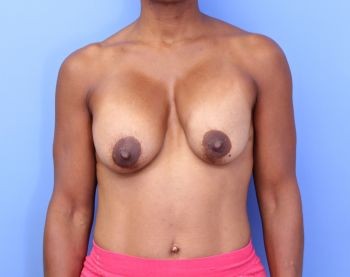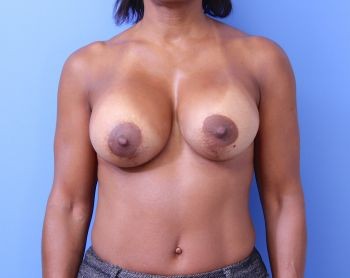 Age: 53Height: 5'8"Weight: 150 lbsImplant: 560cc SiliconeCup Size: C-->DProcedure(s): Breast Implant Revision
This is a 53 year old woman whose breast implants were persistently asymmetric after several operations by her previous surgeon.
She had a breast augmentation many years ago that did not produce enough of a lift because the implants were too small, and then underwent an exchange to a larger size along with a mastopexy (breast lift) a year later. She unfortunately developed a capsular contracture on her left side after the first surgery, and it recurred after her second operation as well.
This time around, she underwent an extremely complicated revisional surgery where her implants were increased from 305cc to Natrelle Inspira 560cc in order to more appropriately volumize the breast without having to redo the mastopexy, and her left sided capsular contracture was repaired by performing a full capsulectomy (removal of the scar tissue around the implant) and using a dermal matrix product called Alloderm to reduce the risk of a third recurrence.
This is the result at 8 months after surgery, and so far there is no evidence of recurrence of her contracture, her breasts are fuller and more appopriately lifted, and although her left breast still has 9-12 months of settling to do, the result is still quite an improvement.
Before and After Breast Implant Revision by Breast Implant Surgeon in New York Dr. Nicholas Vendemia of MAS | Manhattan Aesthetic Surgery.  If you would like more information about breast implant revision surgery, please give us a call at 917-703-7069 or send us a message by clicking here.