Breast Implant Revision
Before and after photos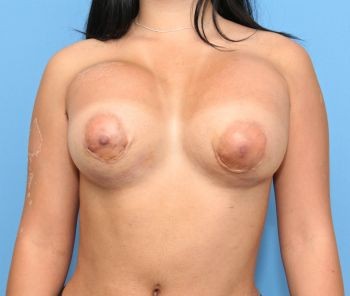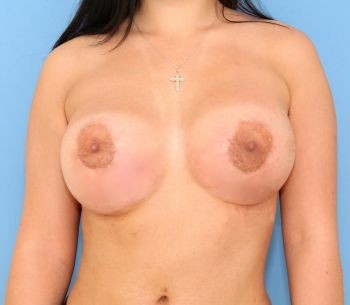 Age: 24Height: 5'8"Weight: 135 lbsImplant: 700cc SiliconeCup Size: D-->DDProcedure(s): Breast Implant Revision
This is a 24 year old woman who has her original implants done in Miami by a "prominent" surgeon, but was unhappy with them for obvious reasons. The Before picture is her result one month after her original surgery in Miami, and as you can see, her implants are far too high and have a terribly unattractive rectangular appearance. If you look closely, you'll also notice that her scars are puckered and very noticeable even though they have had more than a month to heal.
In the revisional surgery done here at MAS, her 650cc high-profile saline implants were exchanged for softer, more natural, 700cc high-profile silicone implants, and the new implants were positioned far more appropriately by expanding the implant pockets using The Playmate Breast Augmentation technique for larger size implants like this. Her scars were also revised to get rid of the puckered appearance and to make them less visible. The After picture is only 10 days after the revision procedure.
Before and After Breast Implant Revision for Implant Malposition by Breast Implant Specialist in New York Dr. Nicholas Vendemia of MAS | Manhattan Aesthetic Surgery.  If you would like more information about breast implant revision surgery, please give us a call at 917-703-7069 or send us a message by clicking here.