Breast Implant Revision
Before and after photos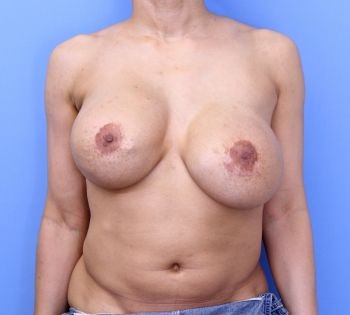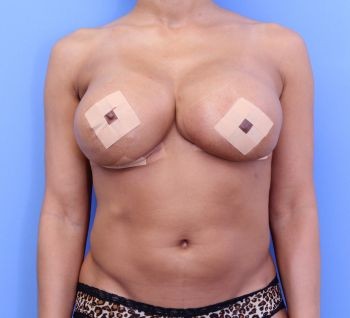 Age: 40Height: 5'2"Weight: 128 lbsImplant: 700cc SiliconeCup Size: EE-->EEProcedure(s): Breast Implant Revision
This is a 40 year old woman whose breast implants were markedly asymmetric after several operations by her previous surgeon. The left implant and breast were sagging to the point of causing physical discomfort and an inability to wear the clothing she wanted to wear.
She underwent an extremely complex breast implant revision procedure in which her original implants were removed, the implant capsules were restructured to allow the new implants to sit in a more natural position, and the both capsules were further supported with a sling of SERI Silk Mesh Scaffold to create what is essentially an internal bra. A new set of 700cc smooth round moderate profile implants were then inserted, and this is the result at at approximately 2 months after surgery. In her After photo she is still wearing silicone strips to fade and protect her scars, but if you look past the visiblle silicone strips the improvement is quite dramatic. The discomfort in her left breast is gone, and she can wear any clothing she desires comfortably.
If you look closely you will see a few irregularities at the bottom of her left breast. This is normal and expected at such an early stage after a complex revision like this, and is a result of the natural nealing process of the SERI Scaffold directly under the skin supporting the new implants. These irregularities will improve over the next several months, and the left implant will settle into a more natural position and round out beautifully on the bottom edge as the SERI stretches.
Before and After Breast Implant Revision by Breast Implant Surgeon in New York Dr. Nicholas Vendemia of MAS | Manhattan Aesthetic Surgery.  If you would like more information about breast implant revision surgery, please give us a call at 917-703-7069 or send us a message by clicking here.