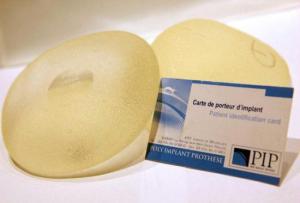 Many of you will remember the recent scandal brought on by French breast implant maker Poly Implant Prosthese (PIP) when the company was disbanded and the executives jailed over their unethical practices of using non-medical grade silicone to manufacture their silicone breast implants sold throughout the world.
It is estimated that 30,000-40,000 women received PIP breast implants that may have caused, or may be causing, unknown and possibly dangerous side effects because of the likely contamination of the silicone gel used in these implants. When the story broke, we received quite a few calls from understandably worried women who wanted to know how they could tell if they had PIP implants, and what they should do about it if they did. We removed quite a few pairs of these implants during that time period, and helped several of these women deal with complications like severe capsular contractors, recurrent seromas (fluid collections), and PIP breast implant ruptures, but since that time we've noticed a dropoff in both the frequency of these calls, and in the sense of urgency on the calls that still come in.
If you or anyone you know had breast implants place in any country other than the United States in the past 20-25 years, please keep reading for an important reminder about the dangers of PIP implants, and why you should be concerned even if you aren't sure if you have them…
---
How do I know if I have PIP breast implants?
Anyone who had breast implants placed in any country other than the United States around 1990 or after should assume that they have PIP breast implants until proven otherwise. PIP breast implants were never approved for use in the US, so if you had your breast augmentation procedure here you are probably fine but you should still check on the maker of your implants just to be sure.
If you have your implant information card, check there first as this will be easiest place to find the manufacturer.
If you never received a card, or if you no longer have it, call your surgeon's office immediately and ask them to provide you with a copy of your operative report (also referred to as an operative dictation). Some office staff members may hassle you a bit about this request, but in most cases you are entitled to this information by law, so stand your ground until you get what you need.
If your surgeon is no longer in practice, or if you cannot reach him or her, you should schedule a consultation with a breast implant specialist as soon as possible to discuss your situation.
Although the media scare over this event may have passed, it is still a very serious issue, and each day that goes by with PIP breast implants exposes you to a number of unknown risks that include breast cancer and other potentially dangerous complications. This should not be thought of as one of those tasks that will happen "once you get around to it". Having your PIP breast implants removed should be at the top of your priority list, and if you are not sure please call us, or any plastic surgeon that specializes in breast implants, today for a consultation.
---
What should I do if I have PIP breast implants?
If you know you have PIP breast implants, you should have them removed as soon as possible. As discussed above, this is not something that you should take time to consider, or prioritize behind other activities and events in your life. There is no consensus on the how many complications the unknown chemical contaminants in these implants can cause, so each day that goes by exposes you to additional, unnecessary risk.
---
Should I be worried if I am not sure if I have PIP's?
Yes, you should be worried. If you cannot find out whether or not you have PIP's, you should schedule a consultation with a breast implant specialist as soon as possible, and you should consider having them removed even if there is no way to identify whether or not they are PIP's. The risks of leaving these implants in place are too great, and if the implants should happen to rupture as they age, the removal surgery will become exponentially more expensive and complicated.
Below is a photo of PIP implants removed from a 26 year old women who had her breast augmentation done in the Dominican Republic. Three years after her surgery, one of her breasts became extremely swollen, hard and painful, but she was not aware that she had PIP implants at the time of her consultation for this problem. She delayed the surgery for many months because of the expense, and the fact that her implants were not very old, but once she finally had the operation this is what we found…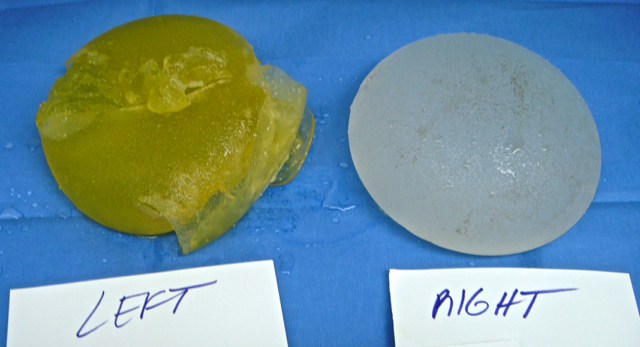 ---
How can I get more information about this topic?
Feel free to give us a call at 917-703-7069, or send us a message by clicking here. You can also read more about PIP breast implant removal on this website here.
Nicholas Vendemia, M.D.
Plastic Surgeon New York
MASNewYork.com
Like MAS on Facebook
Follow MAS on Twitter
---