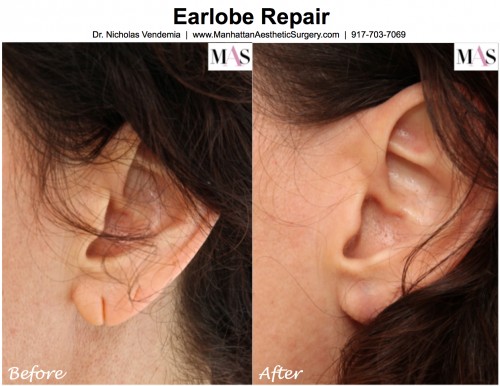 The most common reason for earlobe repair is a gradual weakening of the earlobe tissue caused by heavy earrings. It can also be caused by catching your earring on something and forcefully tearing the lobe, but showing off heavy bling is the most likely culprit.
The good news is that torn and damaged earlobes can be repaired. Earlobe repair is a fairly pain-free procedure that can be done under local anesthesia in the office setting. For most patients, it takes about an hour, and you can go back to work the same day if necessary (although we do recommend that you do take the day of the procedure off so you can apply some ice).
The damaged section of the earlobe is excised, and the remaining healthy tissue is meticulously repaired with very delicate stitches on the inside and out. The stitches are so small that most people would not notice anything out of the ordinary about your repaired lobes when you go back to work, and they don't require any special care other than keeping them clean with your normal face wash. The outside sutures are removed on the 5th or 6th day after the procedure, and the inside stitches dissolve after earlobe tissue is healed. The incision does leave a small, but very inconspicuous, scar that will be hidden almost completely after the ear is re-pierced. The scar will be red/pink for several weeks after the procedure, and then will gradually fade to an almost invisible thin line.
A meticulous repair involving the internal and external tissues of the lobe is the key to a strong, long-lasting repair, so be cautious about who performs your procedure. The surgeon should be comfortable with earlobe surgery, and he or she should be willing to take their time to ensure an adequate repair. Otherwise, the lobe will simple tear through again as soon as you start to wear earrings.
Women can re-pierce their ears and wear light earrings about 8 weeks after surgery, but clips on earrings can be worn before then.
If you have any questions about earlobe repair surgery, please feel free to give us a call at 917-703-7069 or send us a message through our website by clicking here.
Nicholas Vendemia, M.D.
Plastic Surgeon New York
MASNewYork.com
917-703-7069
Follow MAS on Facebook
Follow MAS on Twitter
Photo Credit: Google, Manhattan Aesthetic Surgery LLC
NOTICE: None of the celebrities discussed here have ever received treatment, surgery, medical advice, or evaluations from any author, physician, surgeon, or representative of this blog.