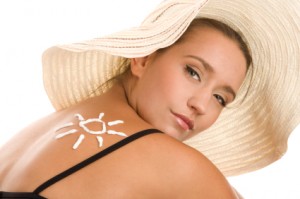 The American Melanoma Foundation is sponsoring an initiative to find more innovative and more effective sun protection products to help decrease the incidence of skin cancer.
It's nice to see an initiative like this because there hasn't been much thought in the world of SPF in recent years, and with our ozone depleting, and more of the damaging rays making it to our skin, it's more important than ever to know how to protect it. The shelves of any Duane Read are lined with so many product choices that it can make your head spin, so anything that can narrow down those choices for us and give us some direction when it comes to sun protection, is a very good thing. If you want to nominate a new product, or if you know someone who is working on such a product, click here for the entry form. The deadline is April 1st, 2015.
And if you want to read more about my favorite SPF products on the market now, please click the Read more link and enjoy…

---
My #1 favorite clinical sunscreen: Dermaquest ZinClear Zinc Oxide Sunscreen.
Dermaquest products have always been of a high enough quality that they have been the cornerstone company of my clinical skin care treatments, and their sunscreen is no exception. It's the only sunscreen that I'm aware of that has all of the following benefits: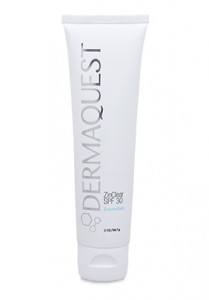 Zinc Oxide. There are so few choices for the extended protection that zinc oxide offers because very few companies have figured out the chemistry behind including zinc in a way that doesn't lead to having to wear a white paste, or a product that feels heavy and greasy. Dermaquest is the only company that I know of that has solved this problem.
Dries clear. As I just alluded to, having the extended protection of zinc oxide in a form that dries completely clear is a rarity nowadays, but ZinClear does an excellent job of this. Within 30 seconds of gentle massage, the product is completely invisible.
Extremely light weight. Sunscreen should be worn every single day… summer, fall, winter, and spring. That means that even on days where makeup is being worn, sunscreen should be the first product applied. In order for that to be possible, the product has to be extremely light weight and it has to "play well" with other products on top of it. ZinClear does this better than almost any other products, and offers real sun protection as opposed to the nearly nonexistent protection found in makeup itself.
Gentle enough for sensitive skin types. I have very sensitive and oily skin, so wearing sunscreen is a chore for me, especially on hot, humid days. Dermaquest's product is one of the few that I can wear without feeling like I have a mask on, and without causing me to break out. I've tried nearly every facial sunscreen on the market, and with the exception of my #2 favorite product, this is one of the best in it's incredibly light feel. It's so light and gentle that we actually use this product for sun protection after some of our signature laser treatments like the LiteTouch Laser Facial™.
If you want to place an order for this outstanding product, please give us a call at 917-703-7069, or order online by clicking here.
---
My #2 favorite clinical sunscreen: LaRoche Posay Anthelios Ultra Light Sunscreen Fluid SPF 60.
LaRoche Posay is an over-the-counter product, but it is still fairly high end in terms of price, and offers excellent protection with the following additional benefits: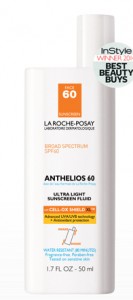 SPF 60. It's very rare to find a product that offers such high strength protection but doesn't feel like a thick, greasy mess. The Anthelious Ultra Light Fluid does just that. My fair skin burns very easily, but with a single application of LaRoche, I can be out in the strong Southern California summer sun for about 6-7 hours before I burn. I have never been able to do that with any other sunscreen, especially without reapplying ever few hours.
Extremely light weight. LaRoche is even more light weight than Dermaquest. It's the lightest weight sun protection product I am aware of, and the only product that literally feels like you have nothing on.
Easy to carry and apply. This product comes in a very small, discrete container that is very easy to carry in a pocket, bag, or purse. Because it is actually a fluid, there is no need for a bulky bottle or a messy application process. I don't even find it necessary to wash my hands after i apply it because it dries so smooth without the faintest hint of a greasy feel.
---
How can I get more information about clinical skin care?
Feel free to give us a call at 917-703-7069, or send us a message by clicking here.
Nicholas Vendemia, M.D.
Plastic Surgeon New York
MASNewYork.com
Like MAS on Facebook
Follow MAS on Twitter
Photo Credit: istockphoto.com, dermaquest, laroche posay