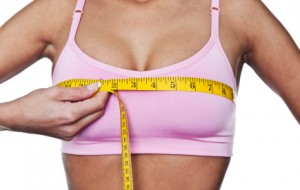 In the past, women who had breast augmentation surgery took prescription pain pills for 7-10 days, had to take off work for up to two weeks, and had a stay out of the gym for up to two months. If you're looking for an alternative, you've found it!
The Rapid Recovery Breast Augmentation, offered exclusively at MAS in New York City, makes a long painful recovery a thing of the past. Most patients are back to work and most normal activities within a few days.
Continue Reading for more information about The Rapid Recovery Breast Augmentation!
The Rapid Recovery Breast Augmentation involves a technique developed by New York Plastic Surgeon Dr. Nicholas Vendemia to reduce trauma to the delicate and sensitive nerves of the breast and rib cage.  This special technique leads to far less swelling, bruising and pain so you can get back to normal life sooner.
Less Pain. It is very common for patients who have a standard breast augmentation to need prescription pain pills for 7-10 days. Most Rapid Recovery patients use less than 3 or 4 pain pills throughout their entire recovery period! By Day 2 or 3 after surgery, most Rapid Recovery patients will be able to replace their prescription pain killers with extra-strength Tylenol.
Less Downtime. Most Rapid Recovery patients are back to normal activities, with the exceptions of heavy lifting and strenuous exercise, after 24 hours, and back to work in 2-3 days.
Less Risk. The risk of serious problems like bleeding is also reduced with the Rapid Recovery technique, as is the risk of minor problems that can occur after using prescription pain pills for extended period of time.
Most women who are having breast surgery for the first time are candidates, but there are a few exceptions. The only way to know for sure whether or not you are a candidate for the procedure is to schedule a consultation.
The price range for full anesthesia (recommended) is $6000-$8500 depending on the complexity of your particular procedure. Patients who qualify for twilight anesthesia can expect to pay less than $6000.
Absolutely! There are fantastic financing options offering a period of 0% interest for qualified applicants, as well as monthly payments than can be as low as $200.
Feel free to call or text message us in the office at 917-703-7069, or to contact us through our website at www.MASNewYork.com!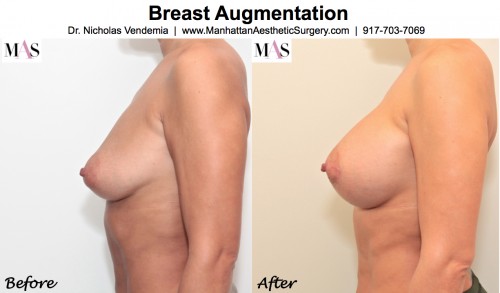 Nicholas Vendemia, M.D.
Plastic Surgeon New York
www.MASNewYork.com
917-703-7069
Follow MAS on Facebook
Follow MAS on Twitter
Photo Credit: MASNewYork.com
NOTICE: None of the celebrities or individuals discussed here have ever received treatment, surgery, medical advice, or evaluations from any author, physician, surgeon, or representative of this blog. All images and photos in this article represent models only. No actual patients or clients are shown.
The Rapid Recovery Breast Augmentation is a trademark of Manhattan Aesthetic Surgery LLC.