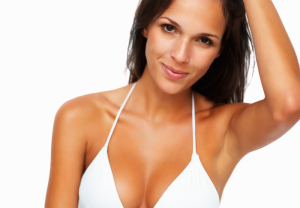 For women interested in breast augmentation, the prospect of major surgery can be daunting. However, a new technique in breast augmentation called The Rapid Recovery Breast Augmentation™ can allow you to achieve the same beautiful results while minimizing pain, risk and downtime. Here are four significant advantages to performing breast augmentation with an eye toward a faster, easier recovery.
1. Less Pain
Patients who undergo traditional breast augmentation often require strong prescription pain killers to help them manage their post-operative pain, while women who opt for the Rapid Recovery technique are usually comfortable enough to be out and about, sometimes as early as that very night after surgery, with only a gentle anti-inflammatory and a few Extra-Stength Tylenol.
2. Shorter Recovery Time
The Rapid Recovery Breast Augmentation™ leads to less pain, less bruising and swelling, and far less downtime than with traditional breast augmentation techniques. The Rapid Recovery technique allows most women to be back to nearly all non-strenuous activities within 24 hours after surgery, and back to work in less than a week.
3. Fewer Risks
All Rapid Recovery Breast Augmentation™ surgeries are performed using the Keller Funnel No-Touch insertion technique, which has been proven to reduce the risk of infection and capsular contracture. The Keller funnel also allows for a smaller incision, which that the final scar will be smaller and less noticeable.
4. A Simpler Process
With The Rapid Recovery Breast Augmentation™, you won't need to worry about complicated medication regimens or uncomfortable garments after surgery. All your stitches will dissolve on their own, you will be able to shower the next day, and you will referred to our bra specialists near the office for a custom-fit underwire bra within a week of your procedure.
The Rapid Recovery Breast Augmentation™ is designed to be as easy and worry-free as possible. Less risk, pain and downtime combined with simplified post-op instructions, lends a modern-day approach to breast augmentation surgery that offers undeniable advantages for today's busy women.
---
Looking for more info about this procedure, or any of our other most popular cosmetic treatments?
Just click on any of the following links below for more information about any of the cosmetic procedures discussed in this article, or feel free to give us a call at 917-703-7069, or send us a private secure message by clicking here.
Nicholas Vendemia, M.D.
Plastic Surgeon New York
MASNewYork.com
Like MAS on Facebook
Follow MAS on Twitter
Photo Credit: Shutterstock
NOTICE: The information presented here is meant for entertainment and/or educational purposes only, and should never be considered as a statement(s) of fact, instructions, or medical advice. None of the celebrities or individuals discussed here have ever received treatment, surgery, medical advice, or evaluations from any author, physician, surgeon, or representative of this blog. No actual patients or clients are shown unless stated as such in the article.