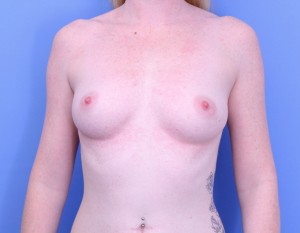 Erica is a 29 year old woman who lost a significant amount of weight after taking her life in a new direction of fitness and intense exercise. Losing the weight meant that she also lost quite a bit of fullness and volume in her breasts, and since she had no plans to gain the weight back, she decided to learn more about breast augmentation surgery to restore the cleavage she missed.
Keep reading about Erica's experience with breast augmentation surgery, and to see her Before & After photos.
Erica's statistics…
Age: 29
Height: 5'2″
Weight: 108lbs
Cup Size: large B cup
Desired Cup Size: full D cup
Erica's main concerns…
Erica had a few unique concerns that we needed to address during her consultation:
1) She wanted to be large enough to produce a noticeable, but natural, difference. Erica said that before she lost the weight, she had natural D cup breasts that she loved. She said that even though she was heavier, she felt much sexier with larger breasts and perkier cleavage, and that was the main reason she was considering breast implants. We spent a large portion of her consultation discussing the fact that women who have breast augmentation surgery feel that they were too conservative in their size choice, and many of them feel like they would have felt sexier and looked better if they had chosen a slightly bigger implant. Since Erica's main reason for having the procedure was to restore her sexy cleavage, she opted for a 371cc moderate profile breast implant even though this might be considered a "large" breast implant for her 5'2″ frame. The Playmate Breast Augmentation™ technique was necessary to place an implant this size in a way that still allowed it to look natural on her small frame, and we discussed how this technique was specifically designed for her situation: a petite woman who wants a larger size breast implant, but doesn't want to look fake.
2) She was concerned that placing the implants under the muscle would affect her fitness activities. This is a very common concern among women who participate in advanced fitness activities, and especially in women who compete, or plan to compete, in the fitness world. In this population of women, the decision about whether to place the implants above or below the muscle is an important one, and each woman should carefully consider the benefits and risks of each choice before making a decision. Placing the implant under the muscle will always lead to a more natural result, especially if you are fit and lean, but there is a possibility that the muscle will lose a bit of strength, and you would have to allow a longer period of time after the surgery before pec exercises are safe again. The potential loss in strength is only a concern in women who actually make a living with their fitness, not in the general population. Fitness competitors, elite and professional athletes, and bodybuilders are the only women who might notice a small decrease in pec muscle strength after this type of surgery, and in my opinion, they are the only women who should consider placing the implants on top of the muscle. Everyone else will have a better result with sub muscular breast implants. Erica said that she does have aspirations to compete in the future, but she elected to place the implants under the muscle anyway. She's now several months out from her surgery, and she hasn't noticed any decrease in her strength.
3) She wanted to accentuate her small waist with a nice outer curve of her breasts. The side swoop of a natural breast is a very subjective visual that some women love, and others don't care for. Breasts that curve just slightly outside of the torso are usually considered to be the most attractive. A more exaggerated outer curve creates the illusion of a small waist, which is a wonderful benefit of breast augmentation surgery for many women. A less exaggerated curve usually produces an inferior aesthetic result, but can sometimes be a benefit for women who participate in activities like gold and tennis where the arms are constantly moving across the body. In these instances, less implant volume to the sides would be an advantage since it would interfere less with those movements. Erica liked the extra sexiness of a slightly exaggerated outer breast curve, and the way this curve accentuated the small waist that she worked so hard for at the gym.
The details of Erica's procedure…
Anesthesia: Twilight
Implant Type: Natrelle Moderate-Profile Silicone
Implant Size: 371cc
Incision: Inframammary (in the fold under the breast)
Position: Submuscular (under the muscle)
Back to work: Day #4
Back to wearing a regular bra: Day #10
Erica's description of the hardest part of the procedure…
"The hardest part was fending off my husband for two full weeks like Dr. V told us to do. The rest of the recovery was really easy, a lot easier than I expected actually. I have a friend who had her breast augmentation somewhere else around the same time that I had mine done. I was a little sore the day after surgery, but it really wasn't that bad, and I was back to work on the fourth day after surgery. My friend is still taking pain pills and having trouble getting her arms over her head three weeks after her procedure. I'm really happy I chose to have mine done here."
Erica's Before & After photos three weeks after the procedure…
Get more information, or schedule a consultation…
Nicholas Vendemia, M.D.
Plastic Surgeon New York
MASNewYork.com
917-703-7069
Follow MAS on Facebook
Follow MAS on Twitter
Photo Credit: Manhattan Aesthetic Surgery LLC
NOTICE: The patient's real name has been changed for the purpose of this case study to protect her privacy.