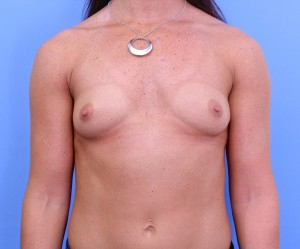 Janine is a 26 year old woman who came to our New York office for a consultation about breast augmentation surgery. She had been thinking about getting breast implants for a few years, and decided it was time to get more information about the procedure so she could make a decision about whether or not she was going to do it.
Keep reading about Janine's experience with breast augmentation surgery, and to see her Before & After photos.
Janine's statistics…
Age: 26
Height: 5'2″
Weight: 115lbs
Cup Size: A cup
Desired Cup Size: full C cup
Her main concerns…
Janine had a few unique concerns that we needed to address during her consultation:
1) She was concerned about the wide space between her breasts. As you can see in her before photo, Janine's breast bone is slightly wider than average for someone as petite as she is, and this is the reason why her natural breasts have a space between them that she feels is too wide. We addressed this concern by making sure to choose an implant that was wide enough to fill up some of that space in the center of her chest, but there is a limit on how close together we can make them without increasing the risk of a complication called symmastia where the skin detaches from the breast creating a tunnel across the chest. If the implants are placed under the muscle, the risk of symmastia is very low, but the implants cannot be placed any closer together than where the muscles attach to the borders of the breast bone. If the implants are placed above the muscle, the implants can be placed closer together (beyond the natural borders of where the muscles attach to the breast bone), but this increases the risk of symmastia, capsular contracture, and implant rippling. Janine gave this a lot of thought, and ultimately chose to have the implants placed under the muscle to minimize her chance of complications, but she also chose an implant that was slightly larger and wider than she may have otherwise wanted to make sure that the implant filled up as much space as possible all the way up to the edge of the muscle attachment to her breast bone.
2) She didn't like the way her nipples pointed out to the sides. The position of the nipples and areolas on the breast can't be changed with a breast augmentation procedure alone. Janine's nipples are not located in the center of her natural breasts, and they can't be moved to the center without making an incision all the way around the areola allowing it to be shifted towards the center. Although this procedure is possible, it's much too drastic for a first-time breast augmentation and introduces an unnecessary scar around the areola. After some consideration, Janine decided to accept her natural anatomy and set this concern aside.
3) She wanted to go big enough to feel sexier, but she was worried how people would react in her conservative work environment. This is a very common concern among professional women whose work environments require them to dress in business attire and formally interact with their colleagues on a daily basis. Breast implants do change the chest to waist ratio and this may make it more difficult to wear button up style suit shirts and jackets. The lapels on suit jackets and shirt collars also place some visual emphasis on the chest, so having a breast augmentation may require a compromise between the size that you may want if you didn't have to worry about emphasizing your chest too much in a professional environment. Janine's decision was particularly difficult in this regard because she wanted to use an implant that was large enough to fill up some of the natural space between her breasts, but not so large that her conservative colleagues might notice. She ultimately decided that it was more important to her to use a wider implant to deal with the space between her breasts than it was to worry about what her colleagues might think, and after everything was said and done, no one at work noticed anyway.
4) She knew that she could not take much time off work, and was worried that the recovery period would be too long. This is another very common concern, especially here in New York City, and especially with women like Janine who admit that they "don't do well with pain". This is the reason why I developed the Rapid Recovery Breast AugmentationTM technique here at MAS, and it has really revolutionized the way women recover after this procedure. The recovery is usually so smooth and comfortable that we no longer need to prescribe harsh pain killers like Percocet and Vicodin for the procedure. A simple anti-inflammatory and Tylenol are all that is necessary for most of our patients. If you would like to learn more about the Rapid Recovery Breast AugmentationTM, just click here.
The details of Janine's surgery…
Anesthesia: Twilight
Implant Type: Natrelle Moderate-Profile Silicone
Implant Size: 339cc
Incision: Inframammary (in the fold under the breast)
Position: Submuscular (under the muscle)
Back to work: Day #4
Back to wearing a regular bra: Day #7
Janine's testimonial about her experience…
"I had a wonderful experience with Dr. V for my breast augmentation. I was an A cup and extremely active and can be found always doing 100 things at a mile a minute so I was so hesitant to go through with the surgery and be forced to 'relax' during recovery. I went for my consultation and fell in love with Dr.V and his assistant Karin. They made me feel extremely comfortable and answered all 500 (it seemed) questions that were running through my head. I didn't want to look like a pornstar I just wanted to be more comfortable in my bikinis/clothes instead of wearing padded suits/bras from Victoria Secret!
The procedure itself was so fast I couldn't believe it! I felt almost fine within three/four days and was up and about walking around the city getting fresh air, meeting friends for dinner, going to the movies etc. No one could believe the recovery I had, so Dr.V's rapid recovery concoction is definitely TRUE.
I'm very happy with my results; Dr.V was very honest with the sizes I was contemplating between. I wanted to go conservative for work but not too small that it wasn't much of a change, but not too large that they were obnoxious.
Karin is also the best, she would reach out to see how I was feeling afterwards and always a text or email away from ANY question I had. They're a great boutique practice and couldn't have had a better experience anywhere else!"
Her Before & After photos…
Get more information, or schedule a consultation…
Nicholas Vendemia, M.D.
Plastic Surgeon New York
MASNewYork.com
917-703-7069
Follow MAS on Facebook
Follow MAS on Twitter
Photo Credit: Manhattan Aesthetic Surgery LLC
NOTICE: The patient's real name has been changed for the purpose of this case study to protect her privacy.