Breast Implant Revision
Before and after photos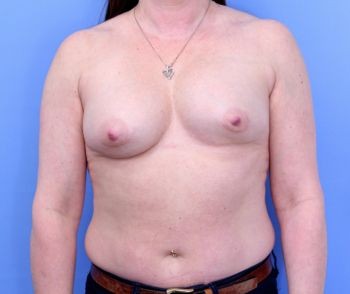 Age: 44Height: 5'0"Weight: 128 lbsImplant: 533cc SiliconeCup Size: B-->DDProcedure(s): Breast Implant Revision
This is a 44 year-old woman (5'0″ 128lbs) who had her 375cc saline implants revised to a large, more attractive 533cc size.
Her old implants were not only too small for her frame, but they were also asymmetric with her left breast being particularly high and contracted in the lower pole. This procedure was particularly difficult in attempting to improve the symmetry, and the left side was found to have a scarred implant capsule that needed to be removed to make space for the new implant, and to allow the implant to sit in a more natural position. Although the symmetry is still not as good as it could have been if she had had a better original breast augmentation, it is significantly improved, as is the overall size, shape, and proportion.
Before and After Breast Implant Revision by New York Plastic Surgeon Dr. Nicholas Vendemia of MAS.  If you would like more information about revising your breast implants, please give us a call at 917-703-7069 or click here to schedule a consultation.