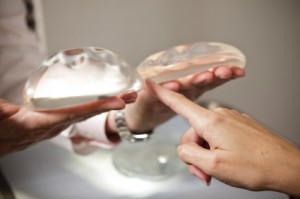 There are several ways to make sure you choose the best possible size for your breast augmentation procedure.
While some surgeons rely on the "eyeball" method to select breast implants for their patients, there are far more accurate methods available, and you should take advantage of as many of them as you can to make sure that both you and your surgeon are as confident as possible in the size. It does take some time, and possibly a few office visits, to pick the best size and shape, but it is always worth the small amount of extra effort.
Keep reading to find out more about the methods you can use to be sure you choose the perfect size breast implants…
---
The top 3 ways to pick the perfect size breast implants:
#1. MEASUREMENTS. Any plastic surgeon who specializes in breast augmentation surgery will take a set of measurements of your breasts, torso, and rib cage as one of the first steps in your physical examination. These measurements serve as an important foundation to start the implant selection process since the dimensions of not only your breast, but also your torso, provide a critical starting point for narrowing down a range of breast implants that are appropriate for your frame. These measurements may also lead an experienced breast implant surgeon to recommend (or rule out) certain shapes or styles, and may lead to advice about considering slightly larger or smaller sizes than you thought were possible. Without measurements of the breast and chest wall, implant selection is simply an educated guess, and while this may produce a good result once in a while, it is not as reliable and accurate as taking careful, objective measurements. If your plastic surgeon does not perform an extensive set of measurements during your consultation, you should consider seeing a few more doctors that specialize in breast augmentation surgery.

#2. SAMPLE IMPLANTS. The measurements discussed above allow your surgeon to select a range of implants that will all be appropriate for your frame, and a well-equipped breast augmentation practice will have nearly all of those sizes available for you to see and try out. Using the sample implants to stuff your bra and test your size options is not an incredibly accurate way to size breast implants, but it gives you an excellent approximation of what each size will look like on your body, wearing the clothes that you like to wear. There is no other substitute for seeing the size change on your own body, and while 3D imaging is becoming more and more popular, it still doesn't replace the value of seeing yourself in the mirror with a reasonable approximation of the expected size change. A useful trick to improve the usefulness of this step is to bring a bra (any type) that is a size or two too large so that it has room for the sample implants to be placed in it, and also bring a fitted black T-shirt and a fitted white T-shirt. The black T-shirt will make the size look as small as it will ever look (because black is slimming), and the white T-shirt will do the opposite. You also have to mentally subtract about 15-20% from what you see in the mirror when using sample implants because they always look smaller when they are placed into a proper anatomic position during the procedure.

#3. 3D IMAGING. Allergan Medical is leading the charge in the world of 3D imaging for breast augmentation surgery with their Vectra system, and while it is a very welcome addition to the list of sizing methods, it does not mean that #1 and #2 above no longer have value. 3D imaging is an excellent tool for a final confirmation of the work you and your surgeon did with measurements and sample implants, but it cannot replace those steps as the only tool to choose the best size. The images provided by the 3D imaging machine are nice to look at and fun to work with because you can rotate them in several different orientations, apply clothing and bra tops, etc, but nothing can match the benefit of seeing your own body, with your own clothing, in your own mirror. Using objective and precise measurements to determine an initial range of implants, then spending some time with those samples in your own clothing, and finally confirming your favorite 1-2 sizes using the Vectra system, is the best way to make a final decision. All three steps are important and valuable.
---
How can I get more information about breast augmentation?
Feel free to give us a call at 917-703-7069, or send us a message by clicking here.
---
Our Exclusive Breast Augmentation Procedures
We are one of the few practices in the world that focuses almost exclusively on breast augmentation surgery, and Dr. Vendemia's results match his commitment to continued innovation in breast augmentation surgery for the least amount of downtime combined with the highest level of safety and the most predictable outcomes. We're looking forward to meeting you for your consultation, and to adding you to our ever-expanding list of women who got better results than they ever imagined with one of our exclusive and innovative techniques.
We also encourage you to View our Breast Augmentation Photo Gallery to see the incredible results that real patients have achieved in our practice with our exclusive and innovative approach to breast augmentation surgery.
Nicholas Vendemia, M.D.
Plastic Surgeon New York
MASNewYork.com
Like MAS on Facebook
Follow MAS on Twitter
Photo Credit: Allergan Medical, Natrelle, Manhattan Aesthetic Surgery
NOTICE: The information presented here is meant for entertainment and/or educational purposes only, and should never be considered as a statement(s) of fact, instructions, or medical advice. None of the celebrities or individuals discussed here have ever received treatment, surgery, medical advice, or evaluations from any author, physician, surgeon, or representative of this blog. No actual patients or clients are shown unless stated as such in the article.