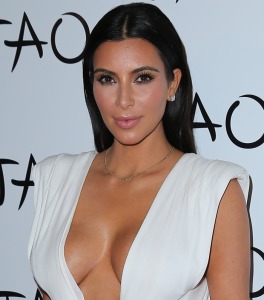 If you ask me, I would say that Kim Kardashian's 34th birthday bash in Las Vegas this past weekend was a big success…
… not because of her gorgeous white dress… and not because of the huge amount of press the event brought in. It was a success because Kim looked better than she's looked in several years. It's no secret that Kim is a fan of plastic surgery, and until now she's been looking a little over the top, particularly with her Botox, cheeks, and lips. All of those seem to have been brought back under control without taking away from her usual ultra-voluptuous Hollywood look.
Keep reading for a breakdown of which plastic surgery procedures are working for her right now, and what she might be able to do better in the future to keep this look going through the rest of her 30's and 40's.
---
What's working for Kim right now…
Botox

. Kim's Botox is spot on right now. Her eyes are big and bright, and her brow shape is just right. It's all too common nowadays to see overdone Botox in celebs that leads to that shiny, tight-looking forehead with those flat, low-set brows that have lost the beautiful feminine arch that experienced injectors know how to create.

Cheeks

. The fullness of Kim's cheeks is about as good as it gets for her right now. In years prior, she was starting to look too full and obviously overdone in that area, but now the look is soft, natural (or as natural as is acceptable in a Hollywood celebrity), and fits the overall proportion of her face very well.

Lips

. Kim is famous for her lips, but instead of the obviously augmented version she was sporting last year, she now has a more enhanced version of her own natural shape. She has the classic "two pillow" look in her bottom lip, where the two pillow'y fullnesses on each side are separated by a gentle valley, and although her lips don't technically meet the requirements of the Classic Lip Ratio because her bottom lip is so much more prominent than the top, they still look beautiful, natural, and are in great proportion to the rest of her face.
---
What Kim can do to keep herself looking great…
Skin Care

. If you zoom in on the above photo, you might notice that Kim's pores are clearly visible across her forehead, cheeks, nose, and chin. This could just be an artifact of the camera flashes, or from her skin happening to be a touch oilier than usual that day, but it could also be one of the most common problems in all of clinical skin care… large pores. Everyone wants that airbrushed porcelain look that we see on the red carpet all the time, but things like smoking, drinking, frequent sun exposure, and the natural aging process all lead to a loss of collagen and elasticity in the skin, which can lead to a variety of skin imperfections like these. Anyone with large pores and oily skin should consider some form of a clinical skin care treatment like a few rounds of fractional laser resurfacing or a gentle chemical peel a few times a year. And of course she could just apply a heavier foundation instead of an expensive treatment like this, but her pores will continue to enlarge as she gets older, and her makeup will eventually get heavy enough to take on that same plastic appearance she had a few years ago when she was overdoing her injectables.

Breasts

. You don't have to look carefully to notice that Kim isn't wearing a bra for this event, and while that isn't a big deal for an evening on the red carpet, it will catch up to her in the long run if she doesn't maintain good support for her rumored-to-be-augmented breasts. Breast augmentation is the most popular cosmetic procedure year after year, and it is the #1 procedure in my New York City practice, so we know a thing or two about the importance of good support when you have breast implants, or if you just happened to have naturally large breasts. We send all of our cosmetic breast surgery patients to a custom-fit bra boutique within a week after surgery to start the support process right away, and we remind them to replace their bras at least twice a year to keep gravity from doing it's thing.

Everything in Moderation

. As I alluded to in the opening paragraph of this article, Kim's look was getting to be a little too over-the-top, even for her, in years past. But now she's reigned it in a bit, and that's paid off in a huge way for her. She already has an extreme look to her bone structure and facial features (and other features that everyone knows about butt don't need to be mentioned here), to begin with, so she needs to be very careful about remembering that there is such a thing as too much of a good thing.
---
Looking for more info about the plastic surgery topics discussed here?
Just click on any of the following links below for more information about any of the cosmetic procedures discussed in this article, or feel free to give us a call at 917-703-7069, or send us a private secure message by clicking here.
Nicholas Vendemia, M.D.
Plastic Surgeon New York
MASNewYork.com
Like MAS on Facebook
Follow MAS on Twitter
Photo Credit: YourNextShoes.com via Judy Eddy/WENN.com, ManhattanAestheticSurgery.com
NOTICE: The information presented here is meant for entertainment and/or educational purposes only, and should never be considered as a statement(s) of fact, instructions, or medical advice. None of the celebrities or individuals discussed here have ever received treatment, surgery, medical advice, or evaluations from any author, physician, surgeon, or representative of this blog. No actual patients or clients are shown unless stated as such in the article.