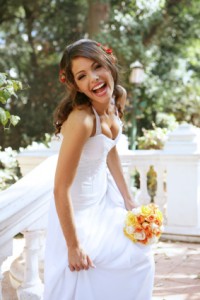 If you want to how your breasts might look with breast implants, or if you just want to temporarily enhance your cleavage for a big event or vacation, The 24-Hour Breast Augmentation™ might be for you. It's a great alternative to surgical breast augmentation if you're not ready to go under the knife, or if you're planning to go under the knife later.
Keep reading to find out more about how saline injections can be a great alternative to breast implants, or how they can help you pick the perfect size implants for your future surgery.
What does The 24-Hour Breast Augmentation™ procedure involve?
The 24-Hour Breast Augmentation™ is a completely nonsurgical procedure that can be performed without anesthesia in the office setting. A sterile salt water solution (saline) is injected in a nearly pain-free manner to augment, shape, and lift your natural breast tissue in a way that mimics breast implants. There are no scars and no downtime, and the results are visible immediately. You'll be able to enjoy the extra fullness and cleavage for 24-48 hours after the procedure, which is just enough time for a big event like a wedding, an important first date, day trip to the beach, or strapless summer dress trip to the Hamptons.
Is The 24-Hour Breast Augmentation™ safe?
Yes, the procedure is completely safe. A very small amount of bruising is possible, but not common, and other than that, there aren't any serious risks. The saline solution that is injected will be safely absorbed by your body in 24-48 hours, just as it would if it were injected directly into your bloodstream using an IV. You can have the procedure on your lunch break, or an hour or two before your big event without worrying about pain, discomfort, or anything else.
What are the most popular uses for The 24-Hour Breast Augmentation™?
Parties and Big Events.

If you want to look your best for a big event without having surgery, saline injections are a great option. The additional fullness, cleavage and lift from the procedure will be visible throughout the event so that you can fill out your bra in a way that's not always possible with pushups. Weddings, red carpet events, bar mitzvahs, bachelorette parties, job interviews, and important first dates are all classic events where a little extra confidence can go a long way on your big day.

Bikinis and Strapless Dresses.

Vacations and short day trips where bikinis or strapless dresses will be involved are great opportunities to take advantage of some temporary cleavage and perkiness that The 24-Hour Breast Augmentation™ can offer.

Choosing a Size for Breast Implants.

One of the most practical uses for The 24-Hour Breast Augmentation™ is in choosing a size for your upcoming breast augmentation surgery. The saline injection procedure can often give you a more accurate idea of what size you like best than sample implants or computer imaging, and it also gives you the opportunity to try on several different outfits at home with your new breast size before you commit to an implant for the surgery.
How can i get more information about The 24-Hour Breast Augmentation™?
For more information about saline injections for temporary breast augmentation, or about breast implants, please give our office a call at 917-703-7069, or send us a message by clicking here. You're always welcome to have a short consultation prior to the injection procedure if you're not sure what your best option is, or if you would simply like to meet your surgeon beforehand.
Nicholas Vendemia, M.D.
Plastic Surgeon New York
MASNewYork.com
917-703-7069
Follow MAS on Facebook
Follow MAS on Twitter
Photo Credit: Manhattan Aesthetic Surgery LLC
NOTICE: None of the celebrities or individuals discussed here have ever received treatment, surgery, medical advice, or evaluations from any author, physician, surgeon, or representative of this blog. All images and photos in this article represent models only. No actual patients or clients are shown.