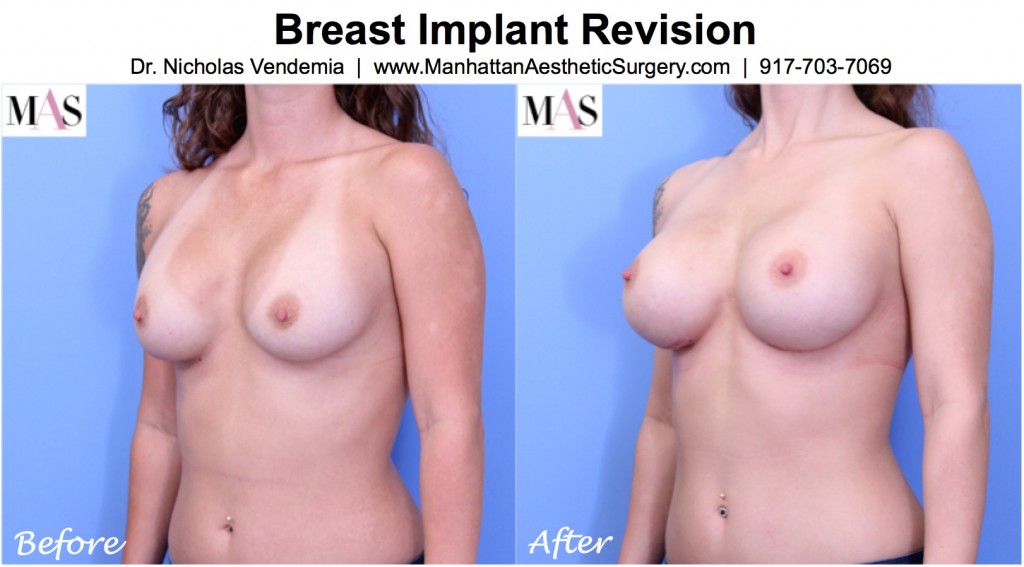 This is a 32 year old woman who wanted sexier, larger breast implants without looking over the top or unnatural. She elected to undergo a breast implant revision surgery using the Playmate Breast Augmentation Technique that is specifically designed to handle the issue of placing larger size breast implants with a natural, sexy appearance.
Her 350cc saline implants were replaced with Inspira Full Profile SRF 560cc silicone implants, and this is the result at 3 weeks after surgery. Even though her implants are more than 200cc larger, they actually look more natural, more symmetric, and more proportional. This kind of result can only be accomplished with the Playmate Technique in which the implant is placed in a way that allows it to sit in a natural position even though it is a significantly larger than average size.
In addition to the size increase, and more central cleavage, the position of her nipples has been corrected so that they no longer appear to be pointing down. The end result is incredibly sexy, but natural at the same time. And because she chose the new Inspira implants, her breasts have the ultra natural feel of the teardrop implants, but the appearance of a full profile round shape.
If you want to see her full story and photo set in our Before & After gallery, please click here, or if you would like to read more about The Playmate Breast Augmentation Technique, please click here instead.
---
How can I get a result like this?
Feel free to give us a call at 917-703-7069, or send us a message by clicking here Or read more about the procedure on our main information page here.
---
Nicholas Vendemia, M.D.
Plastic Surgeon New York
MASNewYork.com
Like MAS on Facebook
Follow MAS on Twitter
Photo Credit: Manhattan Aesthetic Surgery LLC
---