Manhattan Aesthetic Surgery is a state of the art practice for a wide range of plastic surgery procedures. The practice is led an experienced plastic surgeon, Dr. Nicholas Vendemia, who provides procedures ranging from rhinoplasty to breast augmentation to innovative facial rejuvenation treatments. Patients in New York City and surrounding areas who are looking for the latest cosmetic surgery procedures may consult with Dr. Vendemia for suitable solutions.
See Laser Liquid Facelift Before and After Pictures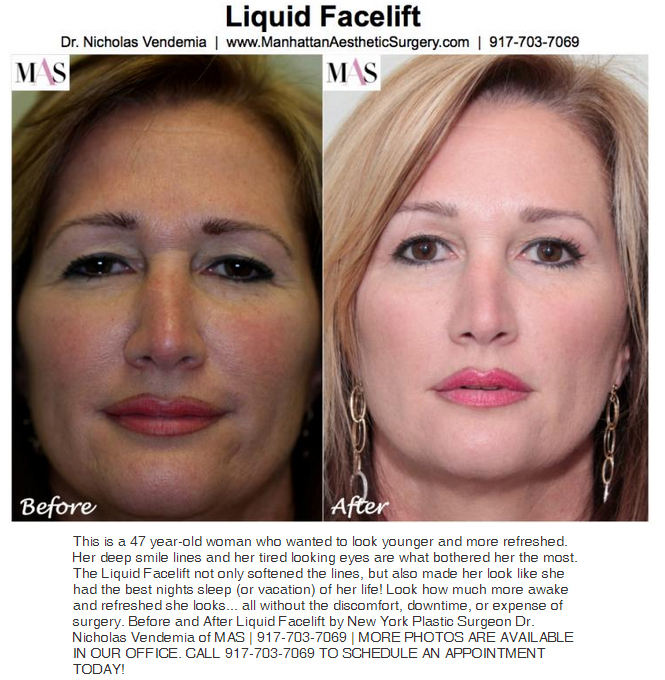 What is Laser Liquid Facelift?
Laser liquid facelift is a highly innovative, non-surgical solution designed to produce similar results as a facelift surgery. Many people are bothered by the signs of aging on their face, but may not be comfortable with the idea of an invasive facelift procedure. Some may choose non-surgical alternatives such as injectable facial fillers, while some others may go for advanced laser skin tightening solutions to make the facial skin appear tighter, firmer, and more youthful.
Laser liquid facelift is a path-breaking technique that combines the benefits of both dermal fillers as well as laser skin tightening. As a hybrid procedure, it can produce more effective and comprehensive results for a patient. The dermal fillers can work to plump the skin and add volume to depleted areas of the face, while the laser treatment can rejuvenate the skin and reduce the appearance of skin blemishes, scars, wrinkles, and lines. In some cases, the cosmetic surgeon may also decide to add Botox treatment in a selective manner along with the fillers and laser procedure.
Benefits
The key advantage with a laser liquid facelift is that the procedure can be customized substantially according to the specific aesthetic goals and the unique facial anatomy of a patient. The procedure serves as an effective substitute for patients who are averse to the idea of plastic surgery. Dr. Vendemia in Manhattan, NYC will carefully evaluate a patient's aesthetic concerns and choices before recommending a liquid laser facelift treatment.
The procedure avoids all the risks and limitations that are typically associated with a surgical facelift. The patient does not have to undergo general anesthesia and post-operative pain and discomfort is also negligible. Unlike a typical procedure performed by a plastic surgeon, liquid laser facelift does not involve any significant downtime. This makes it an ideal procedure for working or busy individuals who are unable to spare several days or weeks for an aesthetic surgery.
LiteTouch Laser Liquid Facelift
Dr. Vendemia in New York City has introduced innovations to a typical laser liquid facelift to make it more effective as well as more comfortable for his patients. The procedure can achieve the following aesthetic facial enhancements:
Drooping eyebrows, jaw and cheeks can be lifted to provide a younger looking facial appearance.
Wrinkles and lines from the face can be reduced, and volume can be added to the depleted areas of the face.
Lips can appear fuller and shaplier.
Frown lines on the forehead and crow's feet around the eyes can fade away.
LiteTouch Liquid Laser Facelift involves fractional laser therapy to achieve smoother, tighter, and more vibrant looking skin.