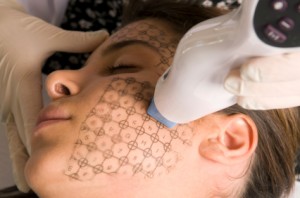 Acne scars are one of the most difficult skin conditions to treat because the scars extend so deeply into all layers of the skin, and the only treatments that stand a chance at being successful are the ones that have the capability to penetrate deep enough to heal the scar from the inside out. Superficial skin treatments may improve very minor scarring, but most acne scars are are quite deep and won't benefit from anything other than the most advanced skin resurfacing treatments. Here's a list of all of the most common acne treatments available, and my thoughts about the usefulness of each one based on the relative effectiveness, cost, and downtime:
CREAMS AND OINTMENTS:

Even though this is the least expensive treatment option, I recommend not wasting your time or money on topical treatments for acne scars. Even prescription topicals don't penetrate deeply enough to reach the level of acne scarring, so let's just move on to treatment #2…

MICRODERMABRASION:

Professional microdermabrasion performed over multiple sessions may improve the most superficial acne scars, but will probably not improve the deeper scars. Microdermabrasion is more of a surface treatment rather than the powerful deep skin resurfacing treatment that acne scars typically need to improve. Even for superficial skin conditions, it still requires an experienced practitioner, top-of-the-line technology, and numerous sessions to produce a meaningful improvement. If your acne scars aren't bad, you may want to consider microderm, but if they are deep and numerous, your money will be better spent on a clinical-level treatment from a physician.

CHEMICAL PEELS:

A deep clinical chemical peel can penetrate several levels deeper than microdermabrasion, and can be a good treatment for mild to moderate acne scarring. The main downside of a deep chemical peel is the downtime. When the skin begins to peel on the 2nd or 3rd day, most patients find it difficult to make themselves presentable, so you may have to take a little time off of work. This fact alone makes chemical peels a less than ideal option for some, but it still worth considering for all but the deepest scars. You are also most likely to see some results after 1-2 treatments with this treatment as opposed to the longer series of treatments with all of the other options in this list. A deep chemical peel can cost anywhere from $600 to $1500 depending the quality the peeling product and the experience of your practitioner.

MICRONEEDLING:

The is a newer technique where a roller with 1-2mm needles is used on the scarred areas to generate a healing response in the skin and heal the scars from the inside out. Initial impressions of this procedure are favorable, but the long term results have not been as extensively studied as other treatments like lasers and peels. Microneedling has the most potential in the cost department as it stands to be one of the less expensive options for treating acne scars, and it doesn't requires as much experience to administer as lasers or chemical peels. Just as with microdermabrasion though, be prepared to be patient for a long series of treatments to see results.

LASER TREATMENTS:

Fractional resurfacing lasers are the gold standard for acne scar treatments because they are highly effective at penetrating to the deepest layers of skin, and can be combined with other treatment options like chemical peels for enhanced results and less downtime. This is the most expensive option on the list, but also the most predictable and effective, especially for moderate to severe scarring. In my experience, the most effective way to treat acne scars is combination therapy with a fractional resurfacing laser with multiple passes set to penetrate at varying depths, and a moderate chemical peel performed during the same session as the laser treatment. Performing both treatments at the same time allows each treatment to be less aggressive than it would need to be if it was performed alone, which allows the downtime to be minimized and the result to be maximized. A series of fractional laser treatments can range from $900 to over $4000 depending on the technology, the experience of the practitioner, and how quickly you want to see results, and just as with most things in life, you usually get what you pay for so don't let cost be your sole guide to the treatment you choose.
If you have any questions about treating acne scars, or if you would like to schedule a skin care consultation with us, please don't hesitate to give us a call at 917-703-7069 or send us a message through our website by clicking here.
Nicholas Vendemia, M.D.
Plastic Surgeon New York
MASNewYork.com
917-703-7069
Follow MAS on Facebook
Follow MAS on Twitter