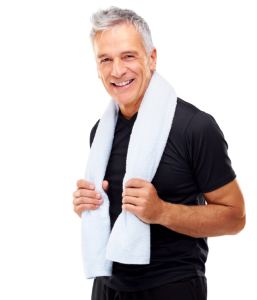 Staying young and healthy is easier than you think… no, seriously, it is.
You don't have to eat raw broccoli and kale for every meal, and you don't have to spend hours at the gym every day. You don't have to make millions of dollars, or take tons of herbal supplements. You don't have to starve yourself or waste time on fad diets.
A little common sense goes a very long way to staying young and healthy all throughout your lifetime, and here's what I mean by that… consider our Top 5 Easiest Ways to stay young:
---
1— Take care of your skin
We all notice a man or a women with beautiful, healthy skin that is free of
, age spots, and wrinkles. Using a gentle exfoliating tool like a Clarisonic Brush, and a dab of a sunscreen that contains Zinc Oxide, every day (even in the wintertime) is an incredibly easy and effective way to keep skin looking young and healthy while avoiding skin cancer and other problematic conditions like
2— Do at least 30 minutes of body-weight "core" exercises every day
You don't need a gym membership to stay in shape. Simple core movements like squats (sometimes called knee bends), lunges, sit ups or crunches, arm raises, jumping jacks, and pushups (even if just on your knees) can be performed by anyone at any time without any equipment. Thirty minutes of these types of movement maintain joint and ligament health, decrease your risk of heart attacks and strokes, and prevent bone loss that can lead to osteoporosis. If you're not sure what how to perform these exercises, of if you need a little help getting started on a routine, it's never a bad idea to hire a personal trainer at your local gym for 2-3 sessions so he or she can get you up to speed about proper form and exercise selection at home.
3— Consider hormone replacement therapy
Your body's production of essential hormones like testosterone and estrogen declines at several stages in one's lifetime. The first decline is commonly in the mid-thirties, followed by a second major decline in the late-fourties or early-fifties. Physiologic replacement of these essential hormones at the right time can have a dramatically positive impact on energy levels, sex drive, body composition, sleep, and mood.
to learn more about Hormone Replacement Therapy, or
to read the personal experience of a real patient in our practice that recently began the process of TRT (Testosterone Replacement Therapy)
4— Take a Vitamin C supplement
Vitamin C is on of the primary building blocks of collagen, and as we all know, collagen is a building block of youth. As collagen production declines, so does the elasticity of our skin, joints, and ligaments, and so does our ability to heal bodies. A simple once-a-day dose of 500-1000mg of Vitamin C (preferably with rose hips for improved absorption). is a safe and easy way to keep collagen production on track, and your immune system supplied with everything it needs to do it's job.
5— Don't rely on OTC pain relievers
If you follow all of the steps above, you shouldn't have much reason for over-the-counter pain killers like ibuprofen, aspirin and Tylenol. However, an occasional dose of any of these medications is expected for minor joint and muscle pains, but the best way to manage these is to prevent them from occurring with all of the above recommendations. If you must use a pain killer, be sure to know the difference between NSAID's (ibuprofen, Motrin, Aleve, aspirin, etc) and Tylenol (acetominophen). NSAID's thin the blood and will make you bruise and bleed much easier, so they should never be taken within 2 weeks of any surgical procedure, and must always be discontinued after a period of five days to protect the kidneys. Tylenol will not thin the blood, but also cannot be taken before or after surgical procedures that require you to also take prescription pain medicines like Percocet and Vicodin, which also contain large amount of Tylenol. Combining Tylenol with prescription pain killers may lead to an overdose of acetominophen, which can damage the liver.
---
How can I get more information about this topic?
Feel free to give us a call at 917-703-7069, or send us a message by clicking here if you need more information about anti-aging treatments, clinical skin care, or hormone replacement therapy. Alternatively, if you would like to schedule a personal consultation to discuss anything you found interesting in this article please feel free to send us a message by clicking here.
---
Nicholas Vendemia, M.D.
Plastic Surgeon New York
MASNewYork.com
Like MAS on Facebook
Follow MAS on Twitter
NOTICE: The information presented here is meant for entertainment and/or educational purposes only, and should never be considered as a statement(s) of fact, instructions, or medical advice. None of the celebrities or individuals discussed here have ever received treatment, surgery, medical advice, or evaluations from any author, physician, surgeon, or representative of this blog. No actual patients or clients are shown unless stated as such in the article.